Delft University of Technology Aether (concept design)
Delft University of Technology Aether (concept design)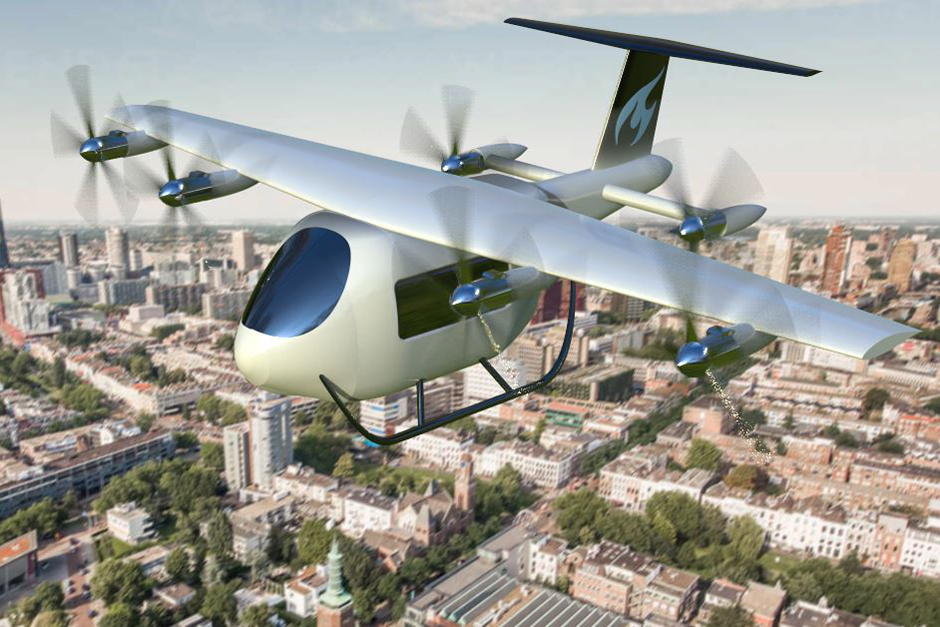 Aether (concept design)
Delft University of Technology
Delft, The Netherlands
www.tudelft.nl
The Vertical Flight Society's (based in Fairfax, Virginia, USA) annual Student Design Competition began in 1984 and challenges students at colleges and universities around the world to design a vertical lift aircraft that meets specified requirements, provides a practical exercise for engineering students and promotes student interest in vertical flight technology. Each of the winning teams is awarded a cash stipend, while each of the first-place winning teams are invited with complimentary registration, to the Vertical Flight Society's Annual Forum and Technology Display to present the details of their designs.
In August 2021, the Vertical Flight Society announced its 39th Annual Student Design Competition. The student objective was to design an electric vertical takeoff and landing (eVTOL) air taxi aircraft for to accommodate all passengers, including passengers with reduced mobility. This would include designing an aircraft to accommodate people with any type of disability, including hidden disabilities. The competition was sponsored by Bell (based in Fort Worth, Texas, USA). The winners of the 39th Annual Student Design Competition were announced on August 22, 2022.
"These are the leaders of the future vertical lift industry," said Mike Hirschberg, executive director of the Vertical Flight Society. "We hope this experience will change them and, through the visibility of this competition, also change people who are in the eVTOL industry today." To date, eVTOL concepts have focused on feasibility, safety, airworthiness and efficiency. But as developers clear those hurdles, the goal is to ensure electric aircraft can transport anyone and everyone, including persons with reduced mobility, visible or hidden disabilities.
An undergraduate design team from Delft University of Technology, in Delft, The Netherlands has designed an eVTOL passenger concept design aircraft for all passengers, including passengers with reduced mobility and those people with hidden disabilities. The design team won 2nd Place in the undergraduate category of the competition for their Aether eVTOL passenger aircraft. The team's Executive Summary is here online.
The design team includes undergraduate engineering students Antonio E. García Bulder, Laura Domenech Garrido, Jonathan Tegischer, Nanami Hashimoto, Jonathan Tegischer, Nanami Hashimoto, Keiya Iwamida, Yaren Curgul. The team was under the guidance of Dr. Marilena D. Pavel, Ir. Nils Barfknecht and Johan Leijtens.
The team made three concept designs before deciding on the final design. The three concept designs include a blended body concept, a tiltrotor concept and multicopter concept design. The criteria for the eVTOL aircraft was passenger comfort, sustainability, cost, technology readiness level and safety.
The Aether eVTOL passenger concept design air taxi for passengers with reduced mobility will consist of one pilot and a maximum of two passengers with reduced mobility, plus one helper. The aircraft can hold a maximum of four passengers without reduced mobility. The estimated cruise speed is 176 km/h (109 mph), has a range of 160 km (100 mph) and has a flight time of just under one hour, at 56 minutes.
The Aether eVTOL aircraft has four tilt-propellers mounted to the ends of perpendicular booms under the high main wing. The aircraft has larger windows, than convention aircraft, for a better passenger experience. The rear tail is a T-tail and has fixed skid landing gear.
The team noted in their Executive Summary that passengers with reduced mobility not only includes disabled people as the primary focus for the design of the aircraft but may also include those passengers with hidden disabilities, passengers who are frail, pregnant women, parents with small children, passengers with medical equipment, visitors or tourists (who are new a city and aircraft) and people with temporary impairments such as a broken leg. The student team chose a larger than normal aircraft seat where the the actual seat (where someone sits) folds vertically back, allowing a wheelchair to be secured to the securely bolted aircraft seat.
The design team foresees their aircraft to be ideal for urban, suburban and rural air travel. The aircraft would also ideal for travel between two cities. In addition, many travelers would benefit from this eVTOL aircraft to travel between two points where conventional travel is too complicated and time consuming for the passenger. The team estimates that once production of the aircraft is under full swing, the aircraft will cost just under $1 million USD and the cost per passenger per mile will be $1.15 USD.
Specifications:
Aircraft type: eVTOL passenger aircraft
Piloting: 1 pilot
Capacity: 4 mobile passengers, 2 passengers (with one helper)
Cruise speed: 176 km/h (109 mph)
Range: 160 km (100 mph)
Flight time: 56 minutes
Cruise altitude: 1,219 m (4,000 ft)
Propellers: 6 tilt-propellers
Electric motors: 6 electric motors
Power source: Batteries
Fuselage: Carbon fiber composite
Windows: The aircraft has larger windows, than convention aircraft, for a better passenger experience.
Wings: 1 main high wing
Tail: Rear T-tail
Landing gear: Fixed skid landing gear
Safety features: Distributed Electric Propulsion (DEP), provides safety through redundancy for its passengers and/or cargo. DEP means having multiple propellers (or ducted fans) and motors on the aircraft so if one or more propellers (ducted fans) or motors fail, the other working propellers (or ducted fans) and motors can safely land the aircraft. There are also redundancies in the sub-systems of the aircraft.
Resources: