Omni Hoverboards Prototype 2
Omni Hoverboards Prototype 2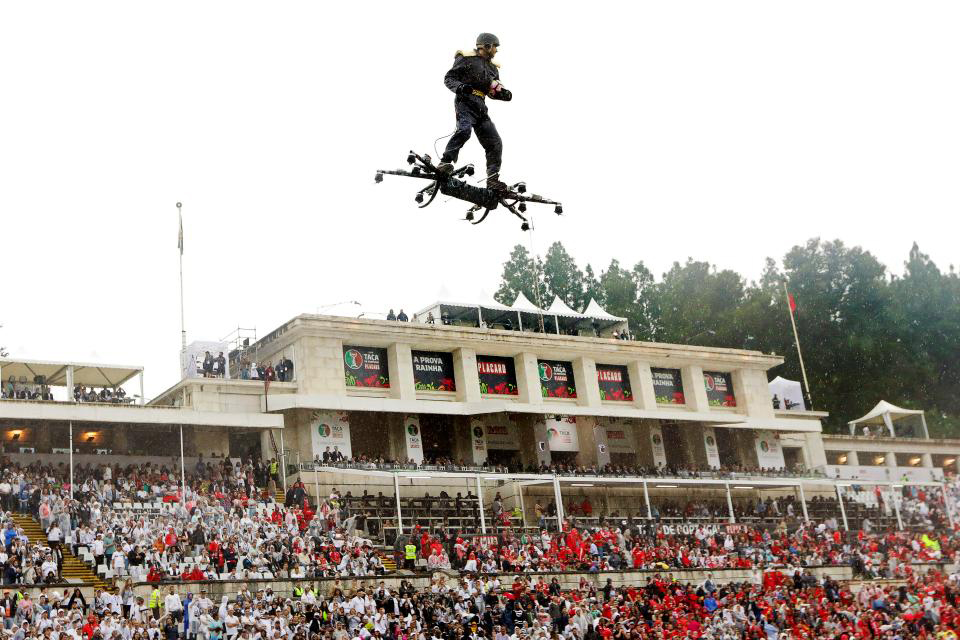 Prototype 2
Omni Hoverboards, Inc.
Montreal, Canada
www.omnihoverboards.com
Based in Montreal, Canada, inventor Alexandru Duru founded Omni Hoverboards in 2015 and Duru has been working on his flying electric vertical takeoff and landing (eVTOL) hoverboard since 2010. His compnaHis interest in making a personal hoverboard began when he realized the technology from small drones would allow him increase the size of the drone to allow for human flight. He's had an interest in electronics from a young age and by trade is a software engineer.
On Saturday, September 20, 2014, Duru flew 275.9 metres at a height of five metres (almost 16.5 feet) above Lake Ouareau (Quebec, Canada) and the flight was officially recognized by Guinness World Records. This helped him gain worldwide recognition for his work and get the attention of investors around the world to finance his project.
While many of the details of his work is based on secrecy (his website lists no specifications, no information about his prototypes and no history of the work he's done creating the hoverboards), the self-made inventor has had a few reporters interview him, take pictures of this workshop, hoverboard and have reported on his progress with articles and videos. He uses many types of materials and equipment to create the hoverboard, from computers, to a drill-type press which carves 3-D designs in material and to using a makeshift pair of spring-loaded wire cutters for his flight accelerator.
The flight testing started with many bumps and mishaps. He has flight tested his eVTOL hoverboard over a shallow pond, many times, so if and when the hoverboard batteries run out of power or the board drops to the ground unexpected, he lands softly on the water and without injury. His safety gear includes a helmet and gloves. His tenacity with flight testing has paid off and he is now flying at higher altitudes, and has made multiple international appearances at events, from South America to the Middle East.
The hoverboard's main frame is made out of one tube and at each end of the tube are four booms, for a total of eight booms. At the end of each boom holds a downward facing electric motor and propeller. The pilot's feet are strapped in using snow boarding straps which are fixed at each end of the main tube. The landing gear are four fixed curved legs placed at the ends of the main aircraft tube. The batteries are secured under the main tube frame. From pictures alone, we estimate the Prototype 2 hoverboard to be in the area of 2.5 meters wide (about 8 feet wide).
The protoype has a protective fencing to help protect the pilot and keep possibly debris from flying into the pilots face. Components for the eVTOL hoverboard are acquired from around the world, from sophisticated electrics, to carbon fiber and his makeshift accelerator. The aircraft can survive being dunked in water and still work for the next flight. Nothing has been said from the inventor how he controls the direction of the aircraft but for Prototype 2, it might simply be shifting his weight on the chassis, for flight control.
The company has reported they are working on a very secretive next generation prototype.
Specifications:
Aircraft type: eVTOL hoverboard prototype
Piloting: 1 pilot
Flight control: Unknown
Cabin: None, the pilot stands using snow boarding straps to keep your feet locked onto the aircraft
Flight time: 1.5 minutes
Propellers: 8
Electric Motors: 8
Batteries: 8 lithium polymer batteries, generating about 40 horsepower
Length: Unknown, possibly 2.5 meters wide (over 8 feet wide)
Landing gear: 4 fixed landing legs
Safety Features: Distributed Electric Propulsion (DEP), provides safety through redundancy for its passengers and/or cargo. DEP means having multiple propellers and motors on the aircraft so if one or more motors or propellers fail, the other working motors and propellers can safely land the aircraft.
Resources:
Omni Hoverboards website
Omni Hoverboards Facebook
Omni Hoverboards Twitter
Omni Hoverboards YouTube Channel
Omni Hoverboards LinkedIn
Article: Video: Watch incredible footage of farthest flight by a hoverboard record set by Canada's Catalin Alexandru Duru, Guinness World Records, May 22, 2015
Video: Farthest flight by hoverboard - Guinness World Records, Guinness World Records, May 22, 2015
Article: Montrealer sets world record for farthest flight by hoverboard, Canadian Broadcasting Corporation, May 23, 2015
Video: Omni's propeller-based hoverboard prototype (first test flight), Omni Hoverboards, May 25, 2015
Video: Omni's propeller-based hoverboard w/landing (prototype), Omni Hoverboards, June 18, 2015
Video: Canadian Develops Futuristic Hoverboard, CBC News: The National, Oct. 13, 2015
Article: Canadian inventor tests new prototype of record-setting hoverboard, Canadian Broadcasting Corporation, Oct. 14, 2015
Video: Training Before our flight in Paris, Omni Hoverboards, June 9, 2016
Video: Omni Hoverboard | The Henry Ford's Innovation Nation, The Henry Ford, Mar 30, 2017
Video: Ball for the Portuguese Cup Delivered from the Air by a Man on a Hoverboard, Omni Hoverboards, May 29, 2017
Video: Brazil - Parintins Folklore Festival - Festival do Boi-Bumbá - do Caprichoso - Third night, Omni Hoverboards, July 4, 2018
Video: Hoverboard followed by Drone, Omni Hoverboards, Jan. 16, 2020