Avioneo Robotics Avioneo 2345
Avioneo Robotics Avioneo 2345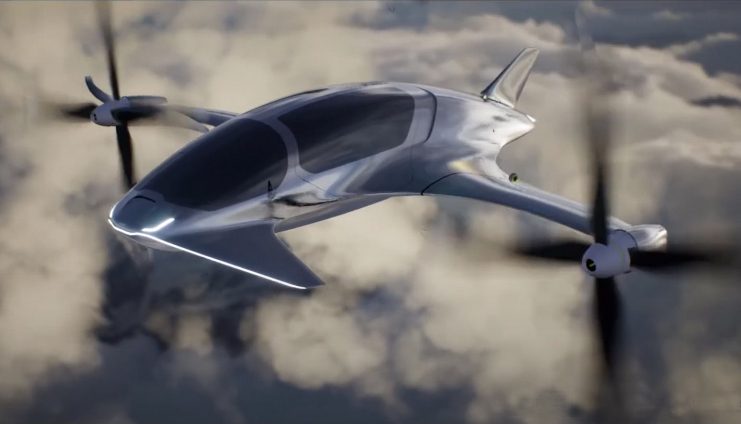 Avioneo 2345
Avioneo Robotics
Ouges, Burgundy, France
www.avioneo.com
Yves Charles, founded Avioneo Robotics in 2018, and has had a very strong interest in aviation since he was young and dreamt about becoming a fighter pilot. He worked as reserve officer at the Dijon-Longvic Air Base for 20 years as Chief of Staff. Charles has been thinking of and designing an electric vertical take off and landing (eVTOL) prototype since 2008.
The company's core values are to provide efficient and daily clean urban transportation without damaging the environment. By achieving this goal, it will help improve the lives of individuals, society and the economy.
The name of company's eVTOL aircraft is the Avioneo 2345. Decoding the name reveals it means the eVTOL aircraft is 2 times more autonomous, 3 times cleaner, 4 times more affordable and 5 times faster — than a car. The goal, make an on-demand smart eVTOL that takes off like a helicopter and flies like an airplane. The aircraft's weight is planned to be very light and have the capability of landing just about anywhere, even in a person's yard.
The advantage of an eVTOL aircraft, according the company is that no runway is needed or no costly infrastructure, such as buildings, which in turn, reduces the cost per person, per flight. In addition, not only does the aircraft need to be technically feasible but economically feasible. Security is another extremely important part of the project and is one of the company's top goals, to have a secure eVTOL aircraft.
The company plans to market their aircraft for on-demand ride-sharing air taxi service. The company would like to emphasize the convenience the passengers will be able to take advantage of by flying in the Avioneo 2345 eVTOL aircraft, such as:
Schedule a ride through an app
Travel at a minimal cost
Autonomously fly you quickly and safely to your destination
No need to be stuck in traffic or drive in traffic
Never worry about the cost and time it takes to maintain an aircraft
No insurance costs
No infrastructure fees
You only pay when you need the service
Specifications:
Aircraft type: eVTOL or hybrid-electric VTOL
Piloting: Autonomous (Initially will be pilot assisted, then as the technology progresses, it will become an autonomous aircraft)
Capacity: 3
Cruising speed (eVTOL): 160-300 km/h (99-186 mph)
Range: 2,000 km (1,243 miles)
Propellers: 4
Electric Motors: 4
Windows: Panoramic windows providing spectacular views.
Wings: Canard wings
Landing gear: Retractable
Safety Features: Distributed Electric Propulsion (DEP), provides safety through redundancy for its passengers and/or cargo. DEP means having multiple propellers and motors on the aircraft so if one or more motors or propellers fail, the other working motors and propellers can safely land the aircraft.
Resources: