MACA Aviation and Aerospace Eleven
MACA Aviation and Aerospace Eleven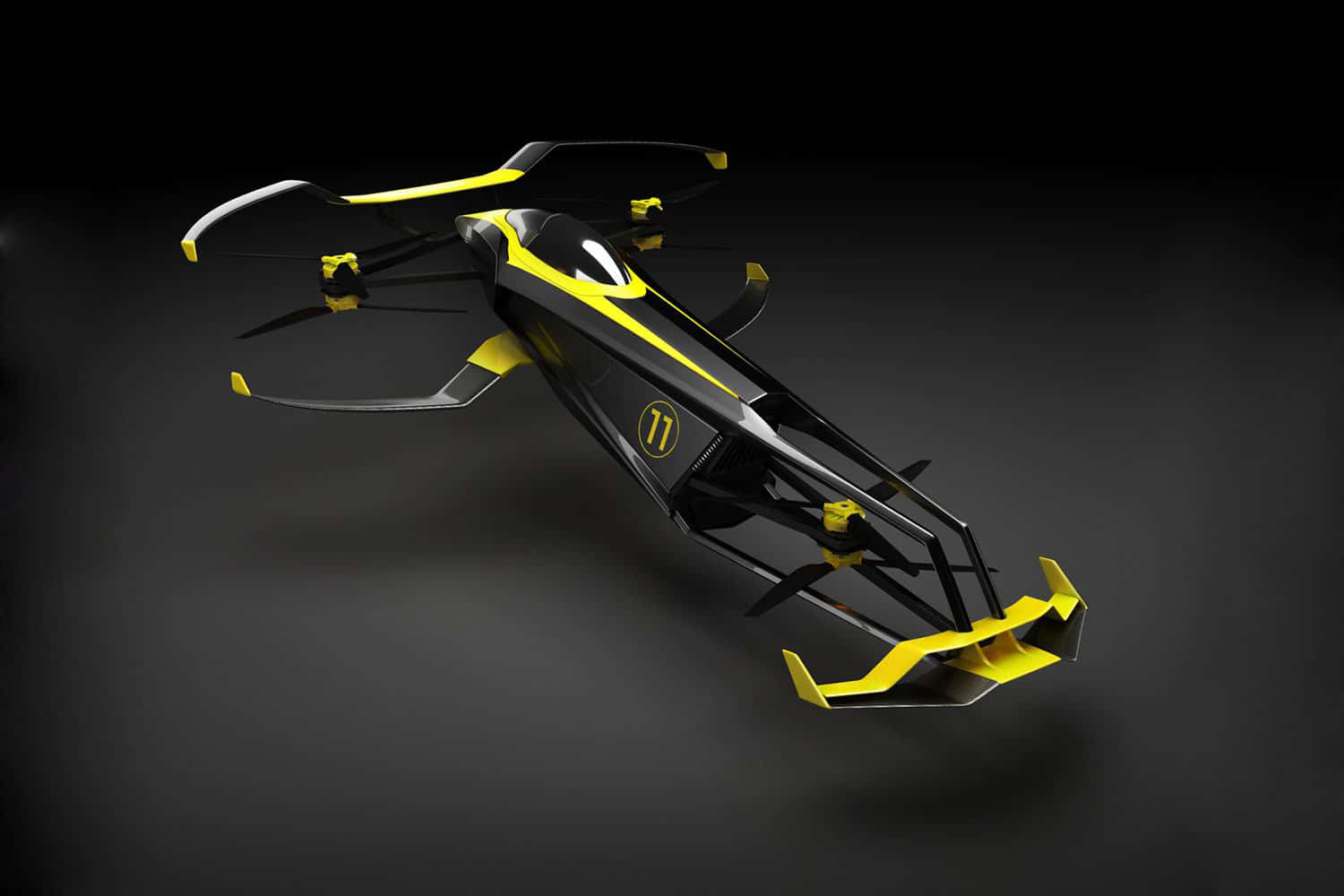 Eleven
MACA Aviation & Aerospace
Aix en Provence, Région Sud, France
www.macaflight.com
The company was founded in 2020 by former fighter pilot Thierry de Boisvilliers and former Airbus executive Michael Krollak in Aix-en-Provence, France but the idea to build a hybrid-electric Formula air racer was conceived in 2018. MACA Aviation & Aerospace goal is to create safe, fast and no emissions Formula 1 hybrid-electric vertical takeoff and landing (eVTOL) multicopter racing aircraft. The overall branding of the company will be Carcopter.
The company foresees air racing as an exciting and challenging proposition for all racing pilots. An added plus for both pilots and spectators, is the added feature of detect and avoid technology in all their aircraft, making air races as close to 100% accident free as possible.
The futuristic eVTOL racing multicopter aircraft's name is Eleven and it holds one pilot, has six electric propellers, six electric motors and the entire aircraft is powered by hydrogen fuel cells. The Eleven is predicted to have a top speed of 153 mph (246 km/h), have semi-automatic piloting, is approximately 16 feet (4.88 meters) long, weights only a little over 1,000 lb (454 kg) and apparently lands on its stabilizers. The aircraft's design is sleek and modern, the pilot's compartment has a canopy window (just like in a fighter jet) and has two canard stabilizers at the front and rear of the aircraft. At the end of each stabilizer are small winglets.
By eliminating heavy and complicated engines, transmissions, drive shafts, exhaust systems, fluids, petroleum, gas tanks and wheels, the weight of the aircraft is at a minimum and complexity is greatly reduced. Using an all electric power source and multicopter controllers, allows the company to produce light weight, very safe, fast, highly maneuverable and exciting aircraft for Formula 1 air racing. Formula 1 car racing has a net-zero carbon goal by 2030; however, eVTOL Formula 1 air racing might beat their ground-bound vehicles to the finish line before 2030.
MACA Aviation & Aerospace sees Formula 1 air racing as an exciting and fun time for people around the world due to new eVTOL technology. The two main reasons the founders have become part of this new sport is to enjoy being among the first companies manufacturing eVTOL Formula 1 aircraft and at the same time allowing the Formula 1 air racing sport keep the Earth safe from carbon emissions.
The company has created a ⅓ subscale prototype that is about 2.5 meters (8.2 feet) long and is powered by batteries. It is unknown if it flew. The company foresees the first technology demonstrator flight by the end of 2021, government certification by the end of 2022 and plans on letting the races begin in 2023.
Specifications:
Aircraft type: Racing hybrid-electric VTOL Formula 1 air racing aircraft
Piloting: 1 pilot with semi-autonomous piloting
Maximum speed: 153 mph (246 km/h)
Range: 40 miles (64 km)
Flight Time: Unknown
Propellers: 6 propellers
Electric Motors: 6 electric motors
Power source: Hybrid-electric (hydrogen fuel cells)
Fuselage: Carbon fiber composite
Length: 16 feet (4.88 meters)
Windows: Canopy over cockpit
Wings: Front and rear canard-type wings with winglets
Landing gear: Lands on the bottom of the front and rear wings
Safety features: Distributed Electric Propulsion (DEP), provides safety through redundancy for its passengers and/or cargo. DEP means having multiple propellers (or ducted fans) and motors on the aircraft so if one or more propellers (ducted fans) or motors fail, the other working propellers (or ducted fans) and motors can safely land the aircraft.
Resources: