The ePlane Company e200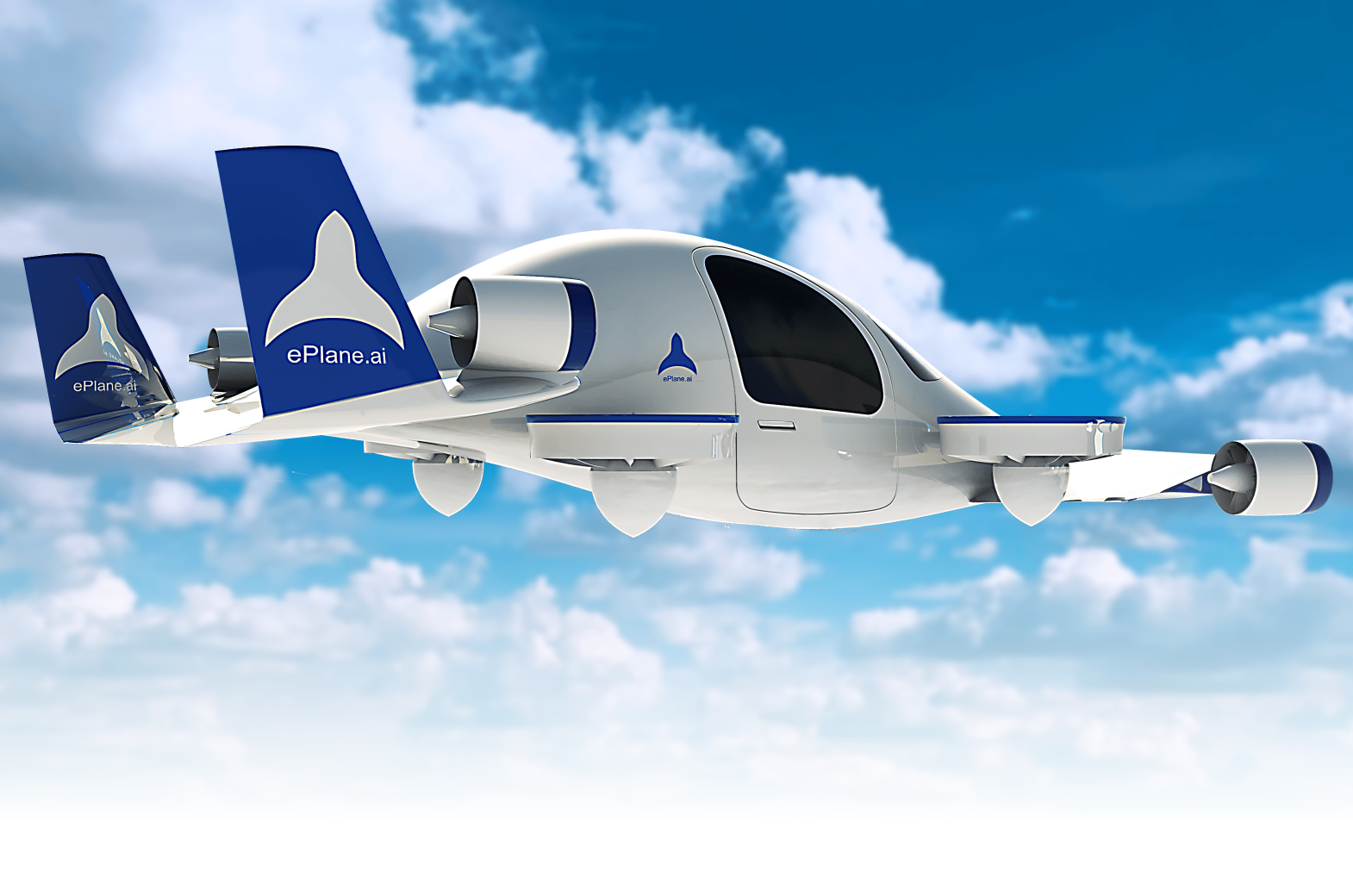 e200
The ePlane Company
Chennai, Tamil Nadu, India
www.eplane.ai
Founded in 2017 in India by Pranjal Mehta, CEO and Prof. Satya Chakravarthy, CTO, The ePlane company has a goal to create electric vertical takeoff and landing (eVTOL) aircraft for Urban Air Mobility (UAM). The company proposes that eVTOL aircraft travel 10 times faster than cars and the cost per passenger flight would be slightly higher than Uber taxi service.
The company has raised around $1 million USD through Speciale Invest, Java Capital, FirstCheque.vc and the Indian Institute of Management Ahmedabad's CIIE incubator. The ePlane Company intends to build a world-class engineering team, develop intellectual software & hardware for their aircraft and have subscale eVTOL flight demonstrations in 2021.
Chakravarthy has stated he got the idea to make eVTOL aircraft after seeing a Tony Seba (Entrepreneur, author and speaker, known for lecturing on the disruption on clean energy.) video on electric ground transportation and thought the same principles could be applied to aircraft.
ePlane's eVTOL e200 but will hold two passengers, have an estimated cruise speed of 150-200 km/h (93-124 mph), a range of 200 km (124 m), a maximum payload of 200 kg (441 lb) and allow roof-top to roof-top Urban Air Mobility in any city. The aircraft will be piloted at first and when autonomous systems become commonplace and reliable, the company will be able to program the aircraft for autonomous flight.
The aircraft has ducted fans for VTOL flight and tandem wings with winglets, to increase the range of the aircraft and to also allow runway takeoffs and landings, if necessary. ePlane has stated that the slower you fly, the bigger the wing is needed which is why they increased the size of the wing chord. The company has stated the noise level of their eVTOL air taxi will be much lower than a helicopter. In addition, by using non-tilting propellers, this will not only keep complexity down in the aircraft which will reduce manufacturing costs, increase safety and make certification of the aircraft much easier. The company also expects their aircraft to be used for air cargo, emergency services, blood transportation and for military use.
The company states that helicopters do provide fast travel in urban areas but are very expensive. The company foresees the price of their eVTOL air taxi to one and a half to two times more than the cost of a Uber taxi ride. Over time, the company expects the cost of on-demand air taxi service will go down in price. They estimate the purchase cost of the aircraft itself, will be half of a helicopter and eventually less than half the cost of a helicopter.
ePlane has expressed no interest in using hybrid-electric power trains because it is more expensive than an aircraft powered by batteries. They have also stated it is known that battery technology is getting better each year and by the time the e200 aircraft is brought to the market, there will be enough battery energy density for their aircraft to be effective for air taxi service.
The company is aiming for the e200 to make around 10 short trips of 10 to 15 km (up to almost 10 miles) on one battery charge. Battery swapping will not be available for their aircraft because ePlane states that battery swaps are impractical for electric aircraft. The company expects to sell the aircraft to wealthy individuals as well as to ride-sharing companies.
In March 2021, the company announced they will be flying a subscale demonstrator (a one quarter scale aircraft) called the e50, by early July 2021. A 75% scale prototype is being built to fly sometime in the fall of 2021. In January 2022, the company foresees a full-scale prototype being built and tested. Certification of the aircraft is estimated in April 2024. The ePlane Company has disclosed their near future goal is to have their air taxis in production and in service by 2025 and eventually plan on building a 3-4 seat eVTOL aircraft. The company foresees their autonomous production aircraft to be available for purchase in 2030.
Specifications:
Aircraft type: eVTOL air taxi and air cargo service
Piloting: Piloted aircraft at the beginning, when autonomous technology becomes available, it will be an autonomous aircraft
Capacity: 2 passengers
Cruise speed: 150-200 km/h (93-124 mph)
Range: 200 km (124 m)
Cruise altitude: 457 meters (1,500 ft)
Propellers: 4 ducted fans
Electric Motors: Unknown
Power source: Batteries
Maximum payload: 200 kg (441 lb)
Fuselage: Carbon fiber composite
Windows: Canopy type window over passenger compartment
Wings: Tandem wings with winglets
Landing gear: Retractable landing gear
Safety Features: Distributed Electric Propulsion (DEP), provides safety through redundancy for its passengers and/or cargo. DEP means having multiple propellers and motors on the aircraft so if one or more motors or propellers fail, the other working motors and propellers can safely land the aircraft. If there is not enough power for a vertical landing, the aircraft can land like a plane.
Resources: