Shenzhen UFO Flying Saucer Technology UFO eVTOL
Shenzhen UFO Flying Saucer Technology UFO eVTOL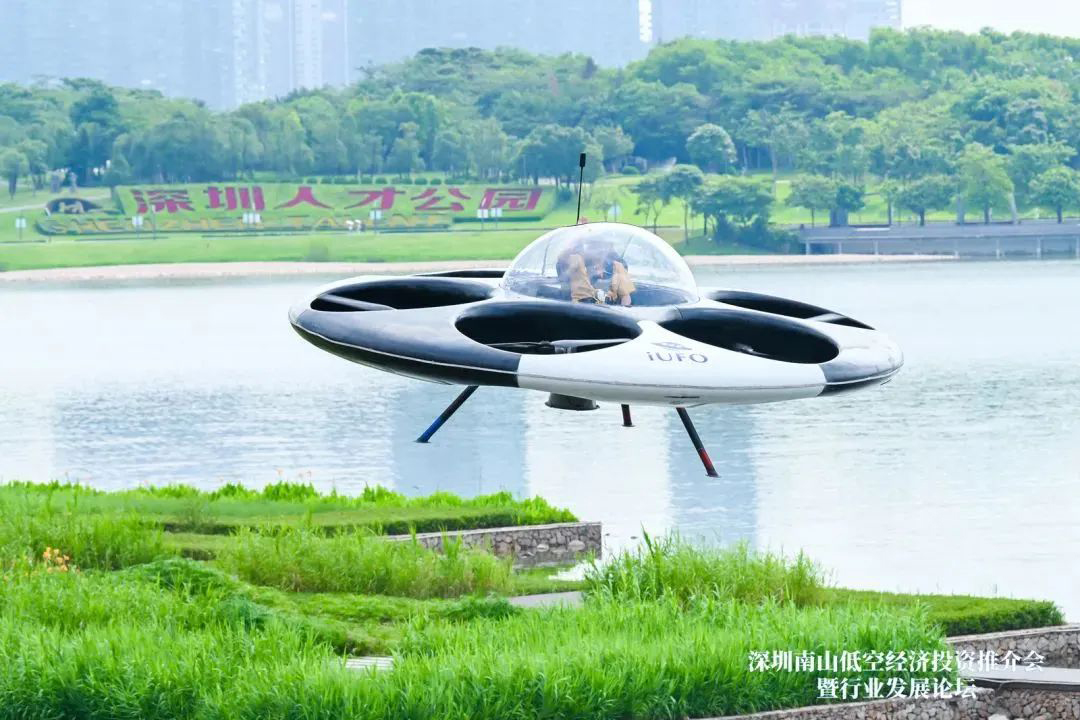 UFO eVTOL
Shenzhen UFO Flying Saucer Technology
Shenzhen, Guangdong Province, China
(website unknown)
The Shenzhen UFO Flying Saucer Technology company (possibly formed in 2019) is located in Shenzhen, Guangdong Province, China. The company is in the business of designing and manufacturing electric vertical takeoff and landing (eVTOL) passenger aircraft for advanced air mobility (AAM). It has been reported the company has several global invention patents. If anyone knows more about the company's history, its website and any social media links, please email us at news@evtol.news.
The UFO eVTOL aircraft specifications
The UFO eVTOL is a one passenger eVTOL production model aircraft that has an almost flat and disc shaped fuselage. The company's aircraft design is very similar to many spaceships found in 1940s and 1950s Hollywood alien invasion science fiction movies. The alien aircraft in these movies were typically called unidentified flying objects (UFOs), flying saucers and spaceships. The pilot sits in the center of the aircraft and there is a clear bubble canopy over the cockpit. The pilot has the option to fly the aircraft manually or fly it on an autopilot setting, according to news reports. The UFO eVTOL has a maximum cruise speed of 50 km/h (31 mph), has a maximum altitude of 200 meters (656 feet) and has a flight time of 15 minutes.
The aircraft has 12 propellers and 12 electric motors and are powered by batteries. There are six openings in the fuselage positioned in a circular fashion where each opening has two stacked propellers. At night when the aircraft is taking off or landing, there are multiple downward color changing LED lights that light the ground that not only help the pilot see but also makes a nice light show for people watching the aircraft. On the outer circumference of the aircraft is a solid circular ring of color changing LED lights for night time flying. The aircraft has fixed tricycle strut landing gear and can also takeoff and land in water.
First public flight on June 3, 2022 in Shenzhen, China
The aircraft was first flown in public on June 3, 2023 in Shenzhen, Guangdong Province in China. The test pilot showed his flying skills by flying over a lake in Shenzhen, landing on grass, landing on a platform next to a lake, and flying during the day and night. The company has revealed the aircraft has triple safety redundancy with its electric motors, its power supply and flight control avionics.
Future use and plans
The company announced its first plans for commercial use will be for sightseeing and advertising performances. At the time of the flight demonstration in June 2023, no announcement was made when the aircraft would be ready for commercial use.
Specifications:
Aircraft type: eVTOL passenger aircraft
Piloting: 1 pilot (automatic and manual flying)
Maximum cruise speed: 50 km/h (31 mph)
Flight time: 15 minutes
Maximum altitude: 200 meters (656 feet)
Propellers: 12 propellers
Electric motors: 12 electric motors
Power source: Batteries
Fuselage: Carbon fiber composite
Window: Bubble canopy over the cockpit
Landing gear: Fixed tricycle strut landing gear and the aircraft can also takeoff and land on water
Safety features: Distributed Electric Propulsion (DEP), provides safety through redundancy for its passengers and/or cargo. DEP means having multiple propellers (or ducted fans) and motors on the aircraft so if one or more propellers (ducted fans) or motors fail, the other working propellers (or ducted fans) and motors can safely land the aircraft. There are also redundancies of critical components in the sub-systems of the aircraft.
Related aircraft
Resources: