Commentary: Looking Back: A Vertical Retrospective on Electric VTOL
By Mike Hirschberg, Executive Director
From Vertiflite, Nov/Dec 2020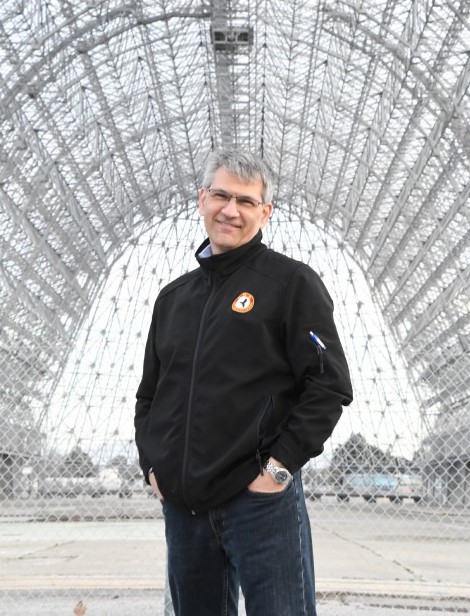 With the dawn of a new decade, we've been taking a look back at how things have changed since the beginning of the 21st Century. Like everything else, this series has now taken a new perspective given the impact of the COVID-19 global pandemic.
Although the explosion of interest in electric vertical takeoff and landing (eVTOL) aircraft over the past few years caught many by surprise, the development has been underway for more than a decade.
This January, the Vertical Flight Society will hold its 8th Annual Electric VTOL Symposium, as part of the 9th Biennial Autonomous VTOL Technical Meeting organized by the VFS Arizona Chapter. Although the meeting will be held online due to the global pandemic, the event will include dozens of technical papers on autonomous and electric VTOL technology and developments, as well as dozens of invited speakers to delve into the many challenges of eVTOL.
The predecessors to today's eVTOL Symposiums were the Society's Transformative Vertical Flight (TVF) Workshops, first held in August 2014. This TVF Workshop was the world's first public technical meeting on eVTOL. Due to space constraints, attendance was limited to 100 people, but included many of the leaders of eVTOL in industry, government and academia — then and today.
First Flights
The year 2011 was an inflection point, when innovators around the world produced the first "pre-historic" eVTOL demonstrators — five aircraft got off the ground and showed that manned eVTOL was possible. Although some demonstrators weren't publicly known for years afterwards, 2011 was a watershed moment, with the first flights of the AgustaWestland (now Leonardo) Project Zero in Italy, Solution F electric helicopter in France, the SkyKar (now Opener) Rebel in Canada, the e-volo (now Volocopter) VC1 in Germany, and the Zee Aero (now Wisk) Proof of Concept (POC) in the US.
The aircraft that first brought eVTOL to the public's attention was the Volocopter VC1 (shown). The YouTube video from the first flight reached one million hits a few days after the flight. Today, the video has over 27 million views. With inventor and pilot Thomas Senkel sitting in a chair atop a yoga ball amid a swarm of 16 electric propellers, this was a "WTF" moment to many in the world. What utility could this possibly have? Why would anyone want to fly around on a yoga ball? Of course, with 20/20 hindsight, we can see how foolish we were. That was not an end-state, it was a beginning — the first milestone on a decadelong journey towards a certificated multi-passenger eVTOL air taxi.
Vertiflite covered the developments of these aircraft with the first in-depth articles published on the Solution F electric helicopter and Project Zero, and compiled the most comprehensive file on Zee Aero's developments available prior to its unveiling. Dossiers on these aircraft (and more than 350 other designs), a timeline of important eVTOL events and other resources are available on the VFS website, www.eVTOL.news. The website also includes more than 400 news stories on eVTOL from the past decade.
Origins
Of course, these eVTOL aircraft didn't drop from the sky. There were years of research and development that preceded them. What were some of the key threads that came together for these aircraft to fly in 2011 and continued to move forward today?
At a top level, it was a confluence of technologies, external factors and market opportunities.
Advancements in electric motors, batteries, modeling and simulation tools, composites and low-cost manufacturing set the stage. Electric propulsion harnesses low-cost fly-by-wire and power-by-wire configurations that could never have been possible with mechanical drive systems and human flight controls.
External factors like performance-based certification regulations and a virtuous cycle of innovations — supported by more than $1T in capital generated by the app economy and the ongoing tech boom in the 2000s — have also been key enablers. By 2018, more than $2B had already been invested in eVTOL, and that number is now increasing by $1B per year.
These new aircraft promised solutions that could free commuters from gridlock, provide faster travel for high-net-worth individuals, and allow emissions-free private and recreational flight, providing new and potentially lucrative market opportunities.
NASA studies at the Langley Research Center in the late 2000s began pointing to the revolutionary capabilities of electric propulsion for electric VTOL, conventional takeoff and landing (eCTOL) and short takeoff and landing (eSTOL) aircraft. NASA researcher Mark Moore (now Uber's Director of Elevate Strategy) was a key player in these studies.
While working part time towards earning his doctoral degree at the Georgia Institute of Technology, Moore participated in the 2006-07 VFS Graduate Design Competition, sponsored by Sikorsky, for an "Advanced Deployable Compact Rotorcraft in support of Special Operation Forces." One component of the Georgia Tech design was the 3,000-lb (1,350-kg) "Dragonfly" unmanned escort vehicle (UEV) powered by a diesel engine for wide rpm variation. The Dragonfly's twin-rotor, box-wing, tailsitter design was a remarkably prescient envisioning of Bell's Autonomous Pod Transport (APT), now being scaled up to larger sizes (see pg. 78). Moore's team won first place for its design — one of the few years that Georgia Tech beat perennial graduate winner University of Maryland; the full proposal can be found at www.vtol.org/sdc.
Additional NASA studies by Moore — with Georgia Tech — led a single-passenger, all-electric tailsitter design, the Puffin. In November 2009, Moore posted an animated video of the Puffin to the NASA YouTube channel. A Scientific American article and subsequent media attention took the video viral, with more 648,000 views in a week — It now has more than 1.3 million views. A one-third-scale test model took flight the following month and Georgia Tech grad students presented the Puffin concept at the VFS Specialists Conference on Aeromechanics in San Francisco, California, in January 2010.
Moore has told the story that the Puffin inspired Google's Larry Page to establish Zee Aero in 2010, originally under the leadership of Prof. Ilan Kroo of Stanford University. Former student Dr. Eric Allison (who had also worked for Kroo in their analysis and consulting company, Desktop Aeronautics) took over from Kroo in 2015.
NASA research in electric aircraft propulsion led to interactions with Joby Aviation for a series of study efforts (see "The First Electric VTOL Unicorn: Joby Aviation," Vertiflite, March/April 2020), including the S2, Lotus, LEAPTech and the X-57 Maxwell eCTOL demonstrator.
Joby Aviation was started in 2009 but founder JoeBen Bevirt's background included starting Joby Energy in 2008, which preceded Google's interest (Makani) in flying giant kites in upper-atmosphere winds to generate high-output electricity. In parallel, Joby Motors developed high-power-density electric motors and high-energy-density batteries that enabled the high performance of Joby Aviation's eVTOL aircraft.
Meanwhile, it's worth noting that the Comparative Aircraft Flight Efficiency (CAFE) Foundation initiated the first of its annual Electric Aircraft Symposiums in 2007. The same year, Slovenia's Pipistrel flew the world's first two-seat, electric-powered, self-launching glider, the Taurus Electro.
NASA announced the $1.6M Green Flight Challenge, sponsored by Google, in 2009. The challenge was organized by the CAFE Foundation. Aircraft had to meet stringent safety and noise requirements, as well as reasonable speed and range. Two years later, Pipistrel's Taurus G4, the world's first four-seat electric aircraft, won the competition.
The Quickening Pace
Over the next decade, electric aviation proceeded apace. In addition to the eVTOL companies and demonstrators discussed above, NASA continued its support of both eVTOL and eCTOL developments.
In 2013, Moore pitched the idea of a distributed electric-propulsion demonstrator, but at the time, NASA management didn't see it as relevant to their investment portfolio. Fatefully, another government agency was interested in the potential of radically different VTOL aircraft, and provided a total of $2.5M in funding. Moore sent half of the money to Joby for development of a rotating-wingtip eVTOL, Dos Samara, later became the Joby Lotus.
NASA's GL-10 Greased Lightning project was a public demonstration of the kinds of possibilities promised by eVTOL, paralleling activities undertaken in stealth by Joby, Zee Aero and others. The 10.5-ft (3.2-m) wingspan GL-10 weighed 62 lb (28 kg) and featured eight electric propellers on the tilting wing and two on the tilting tail. The GL-10 was a 50%-scale model of planned GL-20 and looked like the contemporary Joby S2, with a very similar propulsion architecture.
In August 2014, days before the first TVF Workshop, NASA conducted tethered flight tests of the GL-10, hanging from the gantry of NASA Langley's Landing and Impact Research (LandIR) Facility. A few months later, NASA successfully transitioned the GL-10 from hover to wing-borne flight. It was another key milestone in proving and embracing the potential of distributed electric propulsion. Meanwhile, Dr. Ashish Bagai started the DARPA VTOL X-Plane program in 2012. Aurora was downselected in March 2016 with an $89.4M contract to build a 12,000-lb (5.4-ton) hybrid-electric demonstrator. Although the aircraft —which received the designation XV-24A Lightning Strike — was never completed due to complications with the propulsion system, it advanced the capabilities of Aurora (acquired by Boeing in 2017) and sent a clear message of the potential of eVTOL for military uses.
At the 3rd Annual TVF Workshop held in September 2016, Uber's Nikhil Goel (see "Leadership Moves," pg. 8), announced the company's vision for its Elevate Initiate. VFS was invited to review a draft of the Elevate white paper, which was published the following month. First laughed at and then widely embraced by the aerospace community and the public, Uber Elevate has been a galvanizing initiative that has paid remarkable dividends in advancing the eVTOL Revolution.
When VFS first started tracking companies developing eVTOL aircraft in 2015 (see "Second Transformative Vertical Flight Workshop Is a Great Success," Vertiflite, Nov/Dec 2015), there were only a handful of publicly disclosed concepts. By April 2017, after the first Uber Elevate Summit was held in Dallas, Texas, VFS created its eVTOL website and the World eVTOL Aircraft Directory with about 15 concepts on it. Today, that number is over 350 concepts — everything from the silly to the serious.
Another watershed moment was the combined 5th Annual TVF Workshop and Aeromechanics Design for Transformative Vertical Flight Technical Meeting in San Francisco in January 2018 (see "The eVTOL is in the Details," Vertiflite, March/April 2018). For the first time, hundreds of eVTOL pioneers and innovators from around the world met with conventional rotorcraft engineers and scientists, and largely saw eye-to-eye on the potential and the challenges of eVTOL.
On Track
At the beginning of the second decade of the eVTOL Revolution, companies are on track to reach certification within the next few years. Joby, which has the longest head start, plans for certification in 2023, meeting the Uber Elevate timeline set out in 2016. Many other leading companies expect to be certified in the 2025–2028 timeframe.
There are many, many challenges that need to be solved across the board to reach something like the grand vision of Uber Elevate and the eVTOL developers. But the vertical flight community is well on its way to overcoming each and every one of them. Together, we can make it happen.