Electric CTOL/STOL News, Mar/Apr 2023
With new contracts, partnerships and flight tests spanning multiple countries and companies, efforts are advancing to develop electric conventional takeoff and landing (eCTOL) and electric short takeoff and landing (eSTOL) aircraft for advanced air mobility (AAM) applications.
Airlines Place Orders for Alice
On Dec. 13, Eviation announced that it has signed a letter of intent to provide Air New Zealand with up to 23 of its electric aircraft, the Alice. The agreement is part of the Air New Zealand's Mission NextGen Aircraft program, which aims to replace the airline's fleet of Bombardier Q300s with more sustainable aircraft and fly a commercial demonstrator in 2026. According to Eviation, the airline is the first national flag carrier to sign a letter of intent with the Arlington, Washington-based electric aircraft developer.
Eviation announced on Jan. 17 that it has received a letter of intent to purchase 30 Alice aircraft from Aerus, an emerging regional airline in Mexico. In a press release, Eviation said that Aerus intends to launch commercial operations in 2023 with Monterrey Airport serving as its regional hub. The nine-seat Alice made its maiden flight in September (see "Electric CTOL/STOL News," Vertiflite, Nov/Dec 2022), but has apparently not flown since. Nonetheless, the company expects Alice to become commercially available later in the decade.
First Flight of ZeroAvia Hydrogen-Electric Testbed
On Jan. 19, ZeroAvia completed a successful maiden flight of a Dornier 228 twin-engine aircraft powered by a hydrogen-electric powertrain replacing one of the two Honeywell TPE-331 engines. The flight occurred at the company's facility at Cotswold Airport in Gloucestershire, UK, and lasted 10 minutes. In a press release, ZeroAvia said that the retrofitted 19-passenger Dornier 228 is the largest aircraft in the world to take flight using a hydrogen-electric engine. The flight marks a major milestone in the company's work on the HyFlyer II project, a research and development program backed by the UK government. It occurred after the company received approval on Dec. 23 from the UK's Civil Aviation Authority to proceed with the test flight.
Electric Zenith CH 750 Takes Flight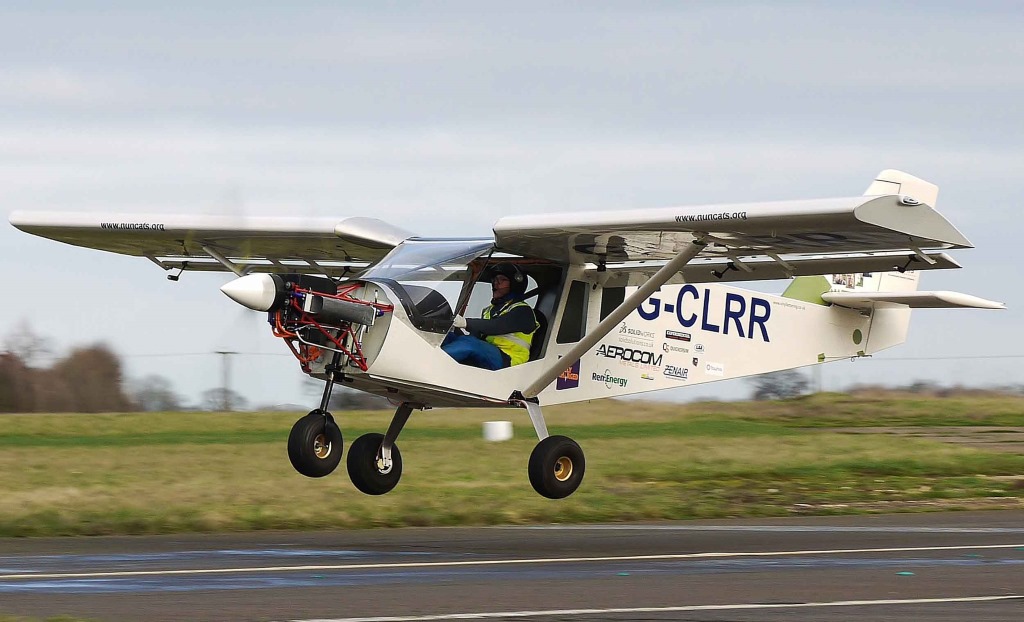 On Jan. 20, an electric Zenith CH 750 "Cruzer" completed a successful maiden flight, taking off from the Old Buckenham Airfield in eastern England. NUNCATS, a British nonprofit formed in 2019, worked for three years to develop the electric version of the eSTOL aircraft. Also called the "Sky Jeep," the CH 750 is a kit aircraft known for its ability to operate in remote locations. "Our aim is to provide a low-cost, rugged and practical aircraft for use in rural and hard to reach communities, such as medics in Uganda and doctors in rural India," said Tim Bridge of NUNCATS.
Siemens Software to Power Heart Certification
On Jan. 24, Siemens Digital Industries Software announced that it will provide its Capital software portfolio to Swedish electric airplane developer Heart Aerospace. In a press release, the Texas-based unit of Siemens said that its software will provide the electrical and electronic system design and support for Heart Aerospace, which is in the process of designing a 30-passenger electric aircraft, the ES-30. Heart, which is backed by Air Canada and Saab AB, expects the ES-30 to begin commercial services in 2028.
US Air Force Awards Electra up to $85M
Electra.aero announced on Jan. 26 that it has secured a Strategic Funding Increase (STRATFI) award from AFWERX, the US Air Force's innovation unit. The value of the STRATFI award is up to $85M and represents an investment partnership between private investors and government funding, including Small Business Innovation Research (SBIR) funds. The award will allow the Electra to develop a full-scale, pre-production prototype of its electric STOL aircraft, which the Air Force is expected to use to explore operational use cases. In a press release, the Virginia-based company said that it has already received over 1,000 orders for its eSTOL aircraft from commercial customers.
NAA Postpones Electric Aircraft Race
The National Aeronautic Association (NAA) announced on Jan. 27 that it has postponed the Pulitzer Electric Aircraft Race to an undetermined date in the future. The race, which was scheduled to take place in May, is a 1,000-nm (1,852-km) cross-country air race featuring zero-emission electric propulsion aircraft, including fixed-wing, rotorcraft and multirotor designs. It was designed in the spirit of the Pulitzer air races of the 1920s. In a statement, NAA President and CEO Greg Principato attributed the postponement to economic conditions and the competing priorities of aircraft developers. "The NAA remains fully committed to holding the Pulitzer Electric Aircraft Race as an exciting venue for the advancement of practical electric propulsion aircraft," he said.
Universal Hydrogen Receives Experimental Certificate
On Feb. 7, Universal Hydrogen announced that the FAA has granted it a special airworthiness certificate in the experimental category. The certificate allows the Southern California-based company to proceed with the maiden flight of its hydrogenpowered regional aircraft, a converted Dash 8-300. Over the preceding weeks, Universal Hydrogen released several videos showing its progress towards the flight, including footage of propeller runs on Jan. 18 and of taxi tests on Feb. 7. The flight is expected to take place at Grant County International Airport in Moses Lake, Washington. The Dash 8-300 is the company's hydrogen-powered testbed; it expects to have a modified ATR 72-600 be its first modified aircraft to see service.