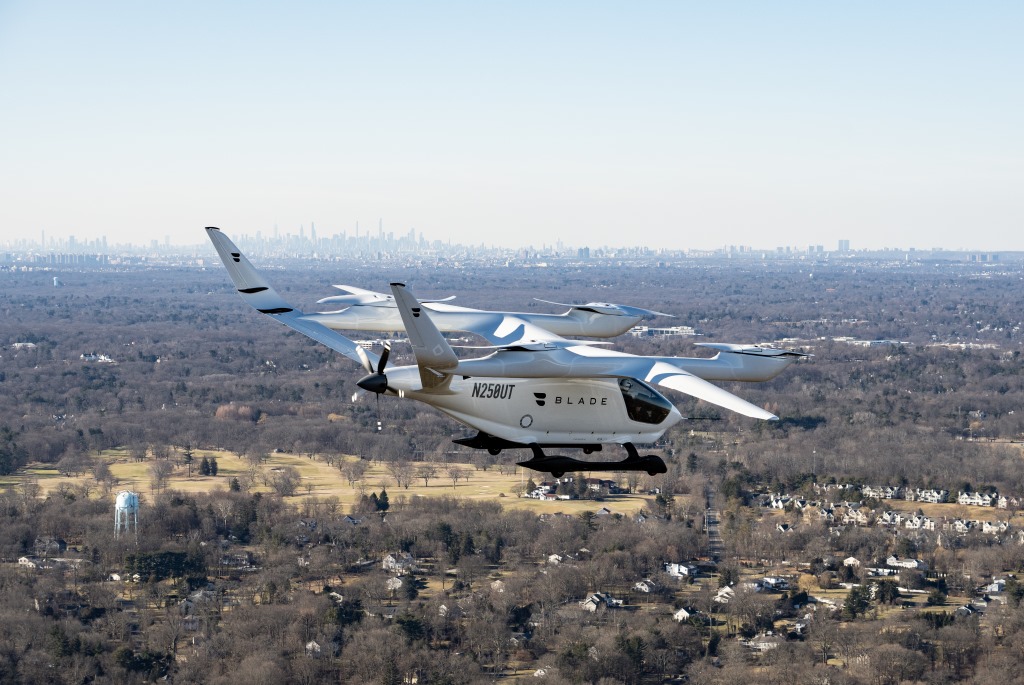 eVTOL Leaders Continue Advancements
By Dan Gettinger
Vertiflite May/June 2023
In the past months, several of the leading electric vertical takeoff and landing (eVTOL) aircraft companies have made announcements showing their advancements towards testing, production, certification and operations. The following represents a summary of recent news.
Archer Aviation
On March 7, Archer announced that it had started construction on its aircraft manufacturing facility in Covington, Georgia. The location is expected to serve as the high-volume manufacturing hub for Archer's Midnight production aircraft and produce 650 aircraft per year once complete, the California-based eVTOL developer said in a press release. The $118M complex is located on 96 acres (39 ha) of land adjacent to the Covington Municipal Airport and is planned to encompass 350,000 ft2 (32,516 m2), though it will be capable of expanding in the future as the company scales up production. Archer intends to open the facility this year and begin production of Midnight in 2024. In January, Archer announced that it was partnering with the automotive giant Stellantis to manufacture the Midnight aircraft (see "eVTOL Leaders Continue Developments," Vertiflite, March/April 2023).
Meanwhile, the final assembly of the first Midnight prototype is nearing completion at the company's facility in Santa Clara, California. In a March 9 press release, Archer said that it has built and mated all major aerostructures and installed a "significant portion of the wiring, electrics, actuators and other systems." Flight testing is scheduled to begin in mid-2023 and piloted test operations in early 2024. Archer unveiled the Midnight design in a ceremony in November (see "Archer's Midnight Showing," Vertiflite, Jan/Feb 2023).
Archer announced on March 23 that it will work with United Airlines to establish a commercial electric air taxi route in Chicago. The planned launch route, which is expected to begin operations in 2025, connects O'Hare International Airport (ORD) to Chicago's city center, a trip that is expected to take 10 minutes by air versus an hour or more by ground transportation. After establishing this "trunk" route, other "branch" routes would follow, connecting ORD with surrounding communities. The two companies selected Vertiport Chicago, which currently serves as a fixed-base operation for helicopter operators, as the takeoff and landing site for the route, and will work with ComEd, a utility company in the Midwest, to establish the power infrastructure at the site.
The announcement is the second of its kind for Archer and United, which in November revealed plans for a route connecting New York's downtown Manhattan with New Jersey's Newark International Airport.
Beta Technologies
On Feb. 14, Beta Technologies and Blade Air Mobility conducted a test flight of the Beta Alia-250 electric aircraft in the New York City area (shown). Blade, a technology company and helicopter services provider based in New York City, intends to purchase up to 20 of the Beta Alia-250 aircraft. After transiting from the Vermont-based company's test facility in Plattsburgh, New York, the Alia-250 conducted a series of demonstrations out of Westchester County Airport, around 37 miles (60 km) north of New York City. In a press release, Blade said the flight was the "first demonstration of a piloted electric vertical aircraft" to take place in the greater New York City area and represents a milestone in its effort to provide sustainable air transportation to the region; however, it should be noted that the first test aircraft (N250UT) is not capable of vertical flight and Beta has, to date, not announced anything other than hover tests with its second demonstrator (N251UT).
The United Arab Emirates (UAE) has granted UPS permission to test Beta's electric aircraft in the Emirate, UPS announced on March 2. Under the temporary license granted by the UAE's Regulations Lab, UPS will initially begin testing the conventional takeoff and landing version of the Alia-250, before proceeding to demonstrations involving the eVTOL aircraft. UPS announced in April 2021 that it placed an order for cargo- and passenger-carrying eVTOL aircraft from Beta and has since remained one of the eVTOL developer's outspoken advocates.
On March 14, Beta announced plans to offer a fixed-wing variant of its eVTOL aircraft to the emerging marketplace for electric conventional takeoff and landing (eCTOL) aircraft. Beta aims to certify and deliver the CX300 eCTOL aircraft to potential customers in 2025 using the more straightforward Part 23 "normal category airplane" airworthiness standard. Although Beta's CX300 eCTOL shares the airframe and many components with the Alia-250 eVTOL aircraft, it lacks the lift propellers that will enable its eVTOL sibling to take-off and land vertically. The company has indicated it will lack the forward booms and a conventional landing gear will replace the "skweel" (skid/wheel) landing gear.
EHang
On Feb. 17, EHang announced that it had executed a passengercarrying demonstration flight in Japan. The flight involved the pilotless EH216 eVTOL aircraft and two passengers. It flew along Tanoura Beach in Oita, the most populous city on Japan's southern island of Kyushu. In a statement, EHang said it was the first such passenger-carrying autonomous eVTOL flight to take place in Japan.
EHang said that it is close to securing a type certification (TC) for the EH216-S from the Civil Aviation Administration of China (CAAC). In its March 22 unaudited financial results announcing revenues for 2022, EHang said the TC process is "over 90% complete," calling it the "fastest progress among all TC projects" involving eVTOL aircraft worldwide. Aviation regulators in China have completed or will complete shortly "more than 70%" of the tests required for the certification. The Guangzhou-based developer said that it has received more than 100 orders for its EH216-S from customers in China.
Joby Aviation
Joby announced on Feb. 14 that it had begun final assembly of its first company-conforming eVTOL aircraft (shown), the S4, at Joby's facility in Marina, California. The achievement "unlocks the path ahead and allows us to exercise our quality management system in preparation for type certification and a subsequent production certification," said Didier Papadopoulos, Head of Aircraft OEM at Joby, in a statement. The company has completed the wing, tail and fuselage and is in the process of mating the structures together and installing the wiring and other critical components. Flight testing is expected to begin in the first half of 2023.
On Feb. 16, Joby announced that it had begun testing its propeller at the National Full-Scale Aerodynamic Complex (NFAC), the world's largest wind tunnel facility, at the NASA Ames Research Center. The tests at the NFAC, which is managed by the US Air Force's Arnold Engineering Development Complex, are expected to yield valuable data on the propeller's performance, loads and acoustics (see also, "Lost in the Noise," pg. XX). The tests are expected to last for several months and are carried out in coordination with the Air Force's AFWERX technology incubator and NASA.
Joby and ANA Holdings announced on Feb. 21 that the two companies will provide eVTOL demonstration flights at the Expo 2025 in Osaka, Japan. Joby is among four eVTOL developers selected by the Japan Association for the 2025 World Exposition to participate in the event. ANA and Joby partnered in February 2022 and, in October, Joby submitted an application for the certification of its eVTOL aircraft to the aviation authority in Japan.
Lilium
Lilium, the Munich, Germany-based eVTOL developer, announced on Feb. 23 that it teamed with Collins Aerospace to design, develop and build the inceptors (the sidestick system that allows the pilot to control the aircraft) for the Lilium Jet. The system to be developed by Collins, a Raytheon Technologies business, will offer "significant space and weight savings" compared to conventional sidesticks, according to a Lilium press release.
In a YouTube video on March 21, Lilium announced that it reached the targeted maximum speed for its Phoenix 2 technology demonstrator. In the test flight, the aircraft reached a speed of 136 kt (250 km/h). The flight occurred at the ATLAS center in Spain, where Lilium is engaged in an ongoing flight test campaign.
In a press release on March 28, Lilium said that it was accelerating production of its battery cells. Customcells, a Lilium partner, is expected to deliver "thousands" of cells annually and leverages a "pre-lithiation process for high silicon content cells," according to Lilium. In a statement, Customcells CEO Dirk Abendroth said that the company was automating its process with an eye towards mass production. Lilium partnered with Customcells, a spin off from the Fraunhofer Institute, in July 2021.
Vertical Aerospace
In early February, Vertical Aerospace secured £30.8M ($38.5M) in funding from the Aerospace Technology Institute (ATI) to further efforts to develop its battery technology. Vertical will join aircraft engine manufacturer Rolls-Royce as one of the recipients of a £113.5M ($136M) grant from ATI, an organization backed by the UK government, for research into hydrogen and electric aviation technologies. As of March, Vertical said that it secured £14M ($17.5M) in funding from ATI. Vertical previously received funding from ATI in September 2020 to develop a smart charger.
Vertical announced on March 14 that it opened a battery facility in Bristol in southwest England (see photo). The Vertical Energy Centre (VEC) is a 15,000 ft² (1,393 m²) facility that will house the eVTOL developer's 50-member battery team and serve as a test and manufacturing hub for Vertical's in-house developed prototype battery modules. Vertical is aiming to introduce a 220 Wh/kg battery system to power the VX4, the company's eVTOL aircraft. Vertical has partnered with Molicel, a Canada-based company specializing in lithium-ion cells and batteries, as well as with the University College London on efforts to increase the capacity of the battery system.
On March 30, Vertical said that it reached several important milestones in the development of the VX4. Vertical has secured what it says is the first ever Design Organization Approval (DOA) issued by the UK's Civil Aviation Authority (CAA) to an eVTOL manufacturer, authorizing the company to "conduct design activities and issue design approvals" within the scope of the DOA, according to a press release. Vertical has submitted the certification basis proposal for its VX4 to the CAA. The company has also submitted a proposal to aviation regulators in Japan to certify the VX4; it has partnered with Japan Airlines, which intends to operate the aircraft at the World Expo in 2025, and with Tokyo-based firm Marubeni.