eVTOL Leaders Continue to Build Momentum
By Dan Gettinger, Managing Editor
Vertiflite, Nov/Dec 2023
After a heady and hectic summer (see "eVTOL Leaders Continue to Partner for Growth," Vertiflite, Sept/Oct 2023), the leading developers of electric vertical takeoff and landing (eVTOL) aircraft settled into a familiar rhythm as each sought to demonstrate progress towards launching commercial operations. In the past few months, eVTOL developers have directed their efforts towards a push to certify their aircraft, as well as expand their supply base and commercial relationships with partners around the world. The following represents a summary of recent activities by some of the leading developers of eVTOL aircraft (updates on Joby and Beta are covered elsewhere in this issue).
EHang
EHang announced on Aug. 17 that its EH216-S eVTOL aircraft completed the last phase of the test and demonstration campaign required by the Civil Aviation Administration of China (CAAC) to achieve a type certificate from the agency, marking the final stages of the company's progress to certify the two-seat aircraft since embarking on the certification process in January 2021. In a press release, EHang said that the type certificate process had involved a wide variety of technologies, ranging from the battery to the data link. The company announced on Oct. 13 that it had received a limited type certificate from the CAAC the day prior (see "A Small Step for EHang, a Giant Leap for eVTOL," Vertiflite, Nov/Dec 2023).
Meanwhile, EHang announced on Aug. 21 that the CAAC had approved its EHang Unmanned Aircraft Cloud System (UACS), an airspace management system that enables the company to control multiple aircraft flying in the same area. On Sept. 20, EHang said that it had invested in Shenzhen Inx Technology, a solid-state lithium-metal battery company founded in China in 2020. The eVTOL developer participated in a funding round led by GL Ventures. In a statement, Hu said that the investment in Inx is part of the company's efforts to "enhance our upstream battery supply chain."
In video posts at the end of September, EHang described the testing for certification and aerodynamic loads testing of its coaxial propellers and airframe static tests. The company noted that the propellers "not only met but exceeded the rigorous airworthiness standards set by the CAAC, demonstrating outstanding strength, durability, and overspeed characteristics." The company studied vibration, stability and material fatigue above the propellers' rated speed, while other propellers were tested continuously for 50 hours to ensure their durability under sustained rated speed.
Eve
Eve Air Mobility announced on Aug. 9 that it partnered with DHL Supply Chain to study the supply chain needs of Eve's eVTOL aircraft. The two companies will evaluate best practices for "supplying operators and service centers with spare parts and inputs" for Eve's eVTOL aircraft and focus on the specific requirements for transporting and storing batteries. The transformation of air mobility brings logistical challenges, observed Eve Vice President of Services and Operations Solutions Luiz Mauad in a statement. "[O]ur premise is to reduce the environmental impact of the supply chain in line with our purpose of offering more sustainable products and services," he added.
Eve announced on Sept. 5 that it is studying the impact of the sights and sounds of eVTOL aircraft on urban communities. Eve partnered with the Royal Netherlands Aerospace Center (NLR) to gather data that will inform future eVTOL aircraft operations. In August, the eVTOL developer conducted a study in the US cities of Orlando and New York City that sought to understand individual responses to eVTOL aircraft in environments with varying levels of background noise.
According to a Sept. 19 report in Aviation Week, Eve is amending its strategy for certifying its eVTOL aircraft due to different approaches by regulators to eVTOL aircraft. Instead of simultaneously pursuing certification with aviation authorities in Brazil, Europe and the US, Eve will seek to certify its eVTOL aircraft in Brazil and the US, before doing the same in Europe.
On Sept. 28, Eve announced that South Korea's Moviation, an urban air mobility service provider, signed a letter of intent to purchase Eve's Urban Air Traffic Management (ATM) solution. Eve is developing the ATM software solution with assistance from Atech, Embraer's air traffic control technology company.
Lilium
Lilium announced on Sept. 7 that it had partnered with Saint- Gobain Aerospace, an automotive glass company headquartered in Ohio, on the windows and windshields of the Lilium Jet. The windows, which are designed by Saint-Gobain Aerospace, will be lightweight and include visibility enhancement features that will contribute to the company's goals of reducing energy consumption.
On Sept. 19, Lilium revealed that it and Aciturri, an aerostructures firm headquartered in Spain, had begun assembling the first of its production configuration aircraft. Based on the data from its five-seat Phoenix demonstrator that Lilium is currently testing in Spain, the company plans to build seven examples of its production aircraft — previously dubbed the "7-Seater" but its five-seat Pioneer Edition will be first to market with club seating — to complete the type certification process for the Lilium Jet. The assembly of the first fuselage is occurring at Aciturri's facility in Valladolid, Spain.
The eVTOL developer expects to conduct the first crewed flight of the aircraft in late 2024 and is aiming to secure the type certification of the Lilium Jet from the European Union Aviation Safety Agency (EASA) in late 2025. "We are fully aligned with Lilium's vision and design, and we are delighted to have evolved our partnership to such a foundational stage towards the birth of the Lilium Jet," said Aciturri CEO Maria Eugenia Clemente in a statement.
Meanwhile, on Sept. 26, Lilium announced that it had begun assembling the electric propulsion system (shown) for its Lilium Jet. The assembling is occurring at the eVTOL developer's dedicated propulsion facility near its headquarters in Wessling, Germany. Lilium designed the Lilium Jet's electric motor in collaboration with Denso and Honeywell, while Aeronamic contributed to the titanium compressor fan and SKF to the electric motor bearings. The motor has a power density of over 100 kW and weighs just over 4 kg (8.8 lb), the company said in a press release.
Supernal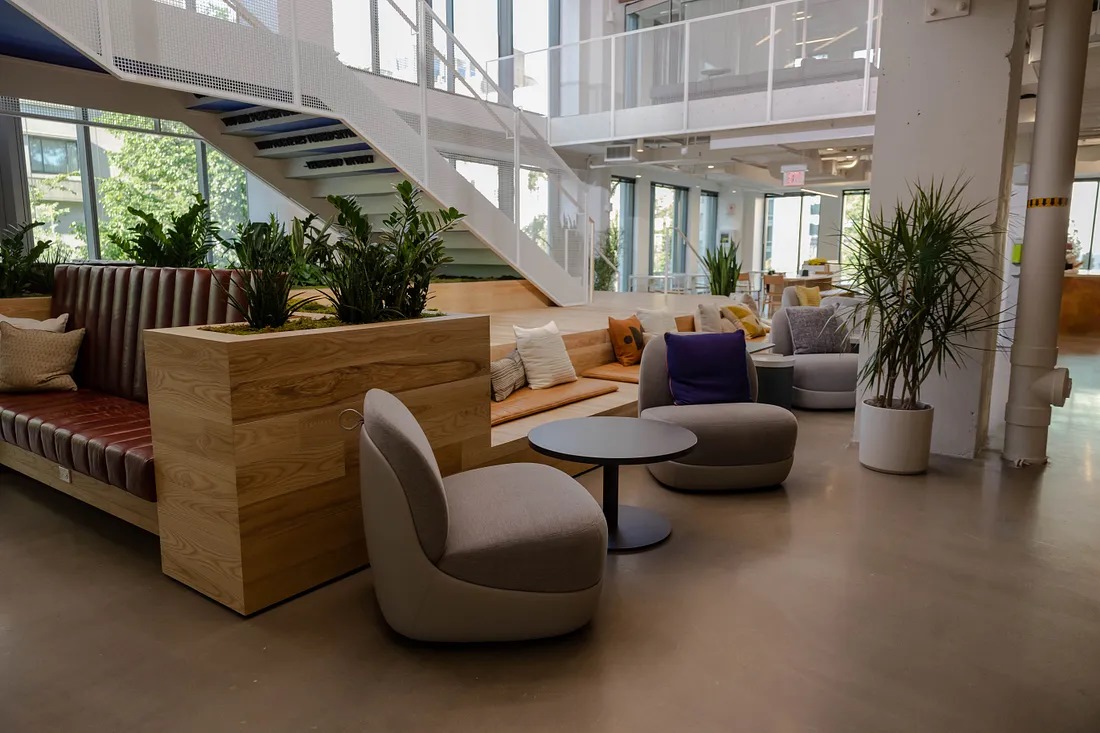 Supernal announced on Sept. 21 that it opened a research and development facility in Fremont, California. The Fremont facility will host more than 100 employees and focus on researching a variety of technologies, particularly battery technology for electric air travel applications. In a statement, Supernal, a subsidiary of Hyundai Motor Group, said that it selected Fremont for its proximity to the technology ecosystem of Silicon Valley. It is the third facility inaugurated by the eVTOL developer this year and the second in as many months. On Aug. 15, Supernal opened a policy and commercial hub in Washington, DC (shown). The three-story Supernal office will act "as an industry resource to regulators and policymakers as they shape" advanced air mobility (AAM), said Jaiwon Shin, president of Hyundai Motor Group and CEO of Supernal, in a statement. The company opened its engineering headquarters in Irvine, in Southern California, in July. With the addition of new staff, Supernal expects its headcount to exceed 500.
See Sidebar, "eVTOL Aircraft in Washington," Vertiflite, Nov/Dec 2023
Vertical
Vertical Aerospace said on Aug. 31 that it suspected that a bonding issue in the propeller blade was the root cause of the crash of its VX4 eVTOL aircraft on Aug. 9. During a hover test in which one of the aircraft's left electric propulsion units (EPU) had been intentionally disabled, a blade departed from one of the right propellers, creating an out-of-balance load. This structural failure created an unexpected fault in the device by which the flight computers communicate with the motors, resulting in the loss of power to two additional right motors and leading the aircraft to descend rapidly from a height of around 30 ft (9 m). The right wing impacted the ground, and the landing gear was also damaged.
The cockpit, cabin and battery remained intact, and although Vertical does not intend to repair the aircraft, it will still be used in ground tests. In a press release, Vertical said it submitted a report about the incident to the UK's Air Accident Investigation Branch and that this first-generation propeller design is not in successive aircraft. The accident did not impact that company's certification time, the company said. Vertical was widely praised for being so transparent in publishing the details of the accident.
"While a fault of any sort is disappointing, it is not wholly unexpected at this stage of testing a novel aircraft," said Vertical Founder and CEO Stephen Fitzpatrick in a statement. Vertical is in the process of assembling a second full-scale prototype of the VX4 at GKN Aerospace's Center, also in Bristol, England. This aircraft, which the company described as "more advanced," is expected be ready for flight in early 2024, while an additional aircraft that Vertical recently approved will be ready by late 2024.
Volocopter
Volocopter announced on Sept. 7 that it had signed an agreement with Bristow Group for up to 80 aircraft. The agreement includes a firm order for two VoloCity aircraft and an option for an additional 78 aircraft. Bristow Group, the Houston-based global helicopter operator, will work with Volocopter to develop passenger and cargo services for the eVTOL aircraft in the US and UK, a joint development agreement covering a variety of commercial, operational and maintenance services. It marks a significant effort by the Bruchsal, Germany, based eVTOL developer to break into the US market. The agreement is the latest for Bristow, which in the past few years has initiated partnerships with Beta, Elroy, Eve, Lilium, Overair and Vertical.