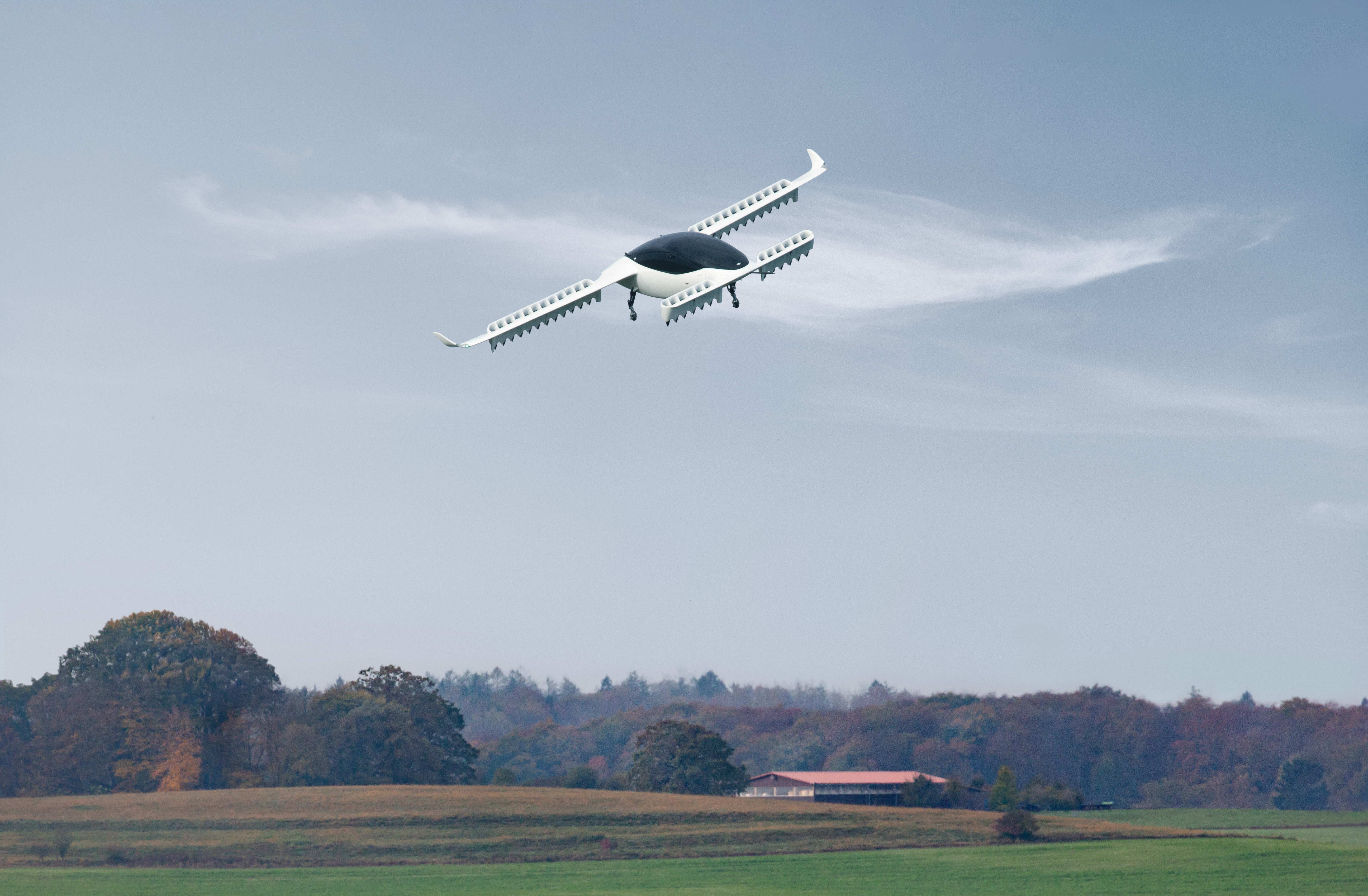 Lilium Draws Searing Publicity, Then Soaring Investment
A big Scottish venture capital firm apparently put little stock in skepticism published about the design of the eVTOL Lilium Jet. Instead it put $35 million into Lilium.
By Richard Whittle
Vertiflite, September/October 2020
Lilium — the secretive Munich-area startup whose performance promises for its Lilium Jet electric vertical takeoff and landing (eVTOL) air taxi have drawn interest from German Chancellor Angela Merkel (who has a PhD in quantum chemistry) and public disbelief from German academics and others — seems to have proven the old saying that, "There's no such thing as bad publicity."
Last January, German aviation publication AEROKURIER and Der Spiegel, Germany's leading news magazine, published analyses and comments from engineers (one anonymously, four by name) who concluded, based on minimal data Lilium has released, that the company's fully electric Lilium Jet — with 36 ducted fans in the tilting wings and canard — can't possibly fulfill Chief Executive Officer Daniel Wiegand's repeated promise that the eVTOL will carry five people 300 km (186.4 miles) at 300 km/h (186.4 mph) with reserve power to spare.
Two months after those articles appeared, Lilium announced that some of its investors had agreed to put an additional $240M into the company. Three months after that, the investment management partnership Baillie Gifford of Edinburgh, Scotland — described by tech industry publisher TechCrunch as an early investor in "everything from Amazon, Google and Salesforce to Tesla, Airbnb, Spotify, newly public Lyft, Palantir and even SpaceX" — invested $35M in Lilium. Other Lilium investors include Tencent, Atomico, Freigeist Capital and Liechtenstein's LGT Capital Partners.
"Hoffnungsträger Oder Hochstapler?," ("Hope Bearer or Imposter?"), was the title of AEROKURIER's article, which reported on a detailed analysis of Lilium's promises by an engineer identified only as someone who works for an aircraft manufacturer. Estimating the Lilium Jet's maximum takeoff weight and other data the company holds close, the critic argued that the sleek little aircraft could fly at most less than half the distance Lilium claims carrying a full load. Dr. Mirko Hornung of the Technical University of Munich — alma mater of Wiegand and his three Lilium cofounders — told AEROKURIER he agreed with the critic and added: "Lilium is using brilliant PR to create an illusory world to attract investors."
Der Spiegel, citing AEROKURIER's article and quoting by name Hornung and three other engineering professors who agreed with the anonymous critic's calculations, concluded that, "Either Lilium has found solutions for technical problems no one else knows, or Lilium's promises can't be kept." The three other professors Der Spiegel quoted were Andreas Bardenhagen of the Technical University of Berlin, Erol Özger of Ingolstadt Technical University and Volker Gollnick of the Technical University of Hamburg.
Lilium spokesman Oliver Walker-Jones told AEROKURIER that the anonymous critic was wrong in many of his weight estimates and miscalculated the hover efficiency of the Lilium Jet's ducted fans. "Lilium is a highly innovative company that has achieved significant innovations in the performance to weight ratio of many components, as well as significant innovation at the aircraft configuration level, which together make this level of performance possible," Walker-Jones told AEROKURIER in a written response.
Critical Articles Failed to Wave off New Investor
Lilium seems to have survived the criticism unscathed. "In the last three months, we've announced $275M in total [new investment], which brings us up to a combined total of $375M and a valuation of more than $1B," Walker-Jones told Vertiflite in July. Asked how Lilium persuaded Baillie Gifford to ignore the critical articles, Walker-Jones said investors are naturally given access to specifications and data Lilium keeps secret from others. Lilium has even refused to show any visiting journalists a prototype of its eVTOL aircraft, kept at the company's headquarters at Sonderflughafen Oberpfaffenhofen, a private airfield about 20 miles (30 km) west of Munich (see "Lilium Goes Its Own Way," Vertiflite Jan/Feb 2020). The prototype can be seen flying in a video on the company's website, www.lilium.com.
"They've seen the aircraft," Walker-Jones said of Lilium's investors. "Most of them have seen it fly as well, at some point. They see performance data on the aircraft. They understand how it's put together. They do their due diligence. They understand the technologies and the assumptions behind it. They get to speak to all of our experts."
An independent Lilium advisor, former Rolls-Royce Deutschland managing director Rainer Hönig, "acts as an independent advisor to potential investors to walk them through the technology," Walker-Jones said. "They have access to a lot more information than most people, including the people who wrote the AEROKURIER paper."
The anonymous engineer whose critique was the subject of the AEROKURIER article conceded that the analysis relied entirely on estimates because of Lilium's refusal to release even basic data, but added that, "these values were therefore consistently assumed in favor of Lilium." Among the anonymous engineer's main conclusions — a view shared by other experts — was that given the energy density of today's batteries, there is no way the Lilium Jet could stay in the air for a full hour carrying five people, the promise Wiegand frequently makes publicly.
"I may introduce you today to the first vertical takeoff and landing electric jet aircraft in the world," Wiegand told Chancellor Merkel on Dec. 4, 2018, at the Digital Summit Nuremberg, in Nuremberg, Germany, where Lilium displayed a two-seat technology demonstrator it initially built and flew after its 2015 founding. "And this technology enables us to create the most capable air taxi technology in the world," Wiegand told Merkel in her video-recorded visit. "We achieve a range of 300 kilometers, purely electrical, and a speed of 300 kilometers per hour."
Wiegand never qualifies the 300 km/h promise in public appearances, but Walker-Jones said the company doesn't claim that any of the three unmanned technology demonstrators it has built can achieve that performance. To date, Lilium has built one two-seat tech demonstrator (dubbed the "Eagle") and two five-seat aircraft — used in flight testing with instruments aboard instead of a cabin with seats. The first of the two five-seat demonstrators burned in an electrical fire (on Feb. 27), the cause of which the company is still investigating, Walker-Jones said.
"The batteries that we're using today are, I think, from 2014, but they're things that at the time when we were building the aircraft you could just go buy on Amazon," he said. "We're not expecting the current prototype that you see flying around today to fly 300 kilometers. We don't promise that it will fly 300 kilometers. We're thinking forward to 2025 and not just having an aircraft that's been optimized to travel distance as best as possible but also the improvement that you should see in battery [energy] density."
Asked for an example of the innovations Lilium has come up with that will help disprove the critics, Walker-Jones said in an email, "We have batteries packs that combine high power (kW/kg) and high energy (kWh/kg) with minimal mechanical overhead. We also have a concept for a thermal management system that has [the] highest heat rejection power in the industry at minimum weight (kW/kg)."
Walker-Jones said Lilium's current batteries provide energy density of only 220 Wh/kg. But he added that if, as the company expects, batteries with energy density of 300 Wh/ kg are available by 2025, "then I think the team here is pretty confident that by 2025 we're going to be able to do the distance that we're promising."
Steps Toward Certification and Inaugurating Air Taxi Service
Lilium says customers will be able to book Lilium Jet air taxi service flights using a mobile app starting in 2025. The COVID-19 pandemic has prevented any flight testing of the second five-seat demonstrator since February, Walker-Jones said, but Lilium's staff, who now number about 500, have been working — most of them from home — on the design of the first "serial" production Lilium Jet. "That aircraft is the one that we will take to the market, and that's the one that's going to need to do the things that we're saying," Walker-Jones said.
Demonstrating confidence in its predictions, Lilium is also working on regulatory and infrastructure aspects of its air taxi concept, which is to offer regional air service from one town or city to another, rather than service within an urban center.
Earlier this year, Lilium hired its first two employees based in Washington, DC. David Oord, former senior director of government affairs for the Aircraft Owners and Pilots Association (AOPA), with nine years of experience serving on US Federal Aviation Administration (FAA) official regulatory panels, is Head of Regulatory Affairs, Americas for Lilium. The company also hired Beau Whiteman, who spent eight and a half years with Tesla, to work with partner companies on developing the electric charging infrastructure.
Lilium recently released concept drawings for vertiports that Walker-Jones said were designed by an in-house architect. The company is also making plans for manufacturing Lilium Jets. Lilium has now erected two large, glistening manufacturing buildings next to its four-story headquarters building at Oberpfaffenhofen airfield, and in July it announced a carbon fiber composite supply agreement with Toray Industries, a leading carbon fiber maker, "for use in the production of further technology demonstrators, before being delivered directly to suppliers who will manufacture parts for prototypes and serial production."
"What we're talking about is aimed for what we want to do in 2025," Walker-Jones said. "I think we will get far enough in the next 18 months that people will have much more confidence that the aircraft will do eventually what people are expecting it to do."
Asked why Lilium hasn't countered its critics by publishing its own technical analysis, including actual weight and other specifications, Walker-Jones said: "Watch this space.
About the Author
Richard Whittle, author of The Dream Machine: The Untold History of the Notorious V-22 Osprey (Simon & Schuster, 2010) and Predator: The Secret Origins of the Drone Revolution (Henry Holt and Company, 2014), is a research associate at the Smithsonian National Air and Space Museum and a regular contributor to Vertiflite. He speaks fluent German.