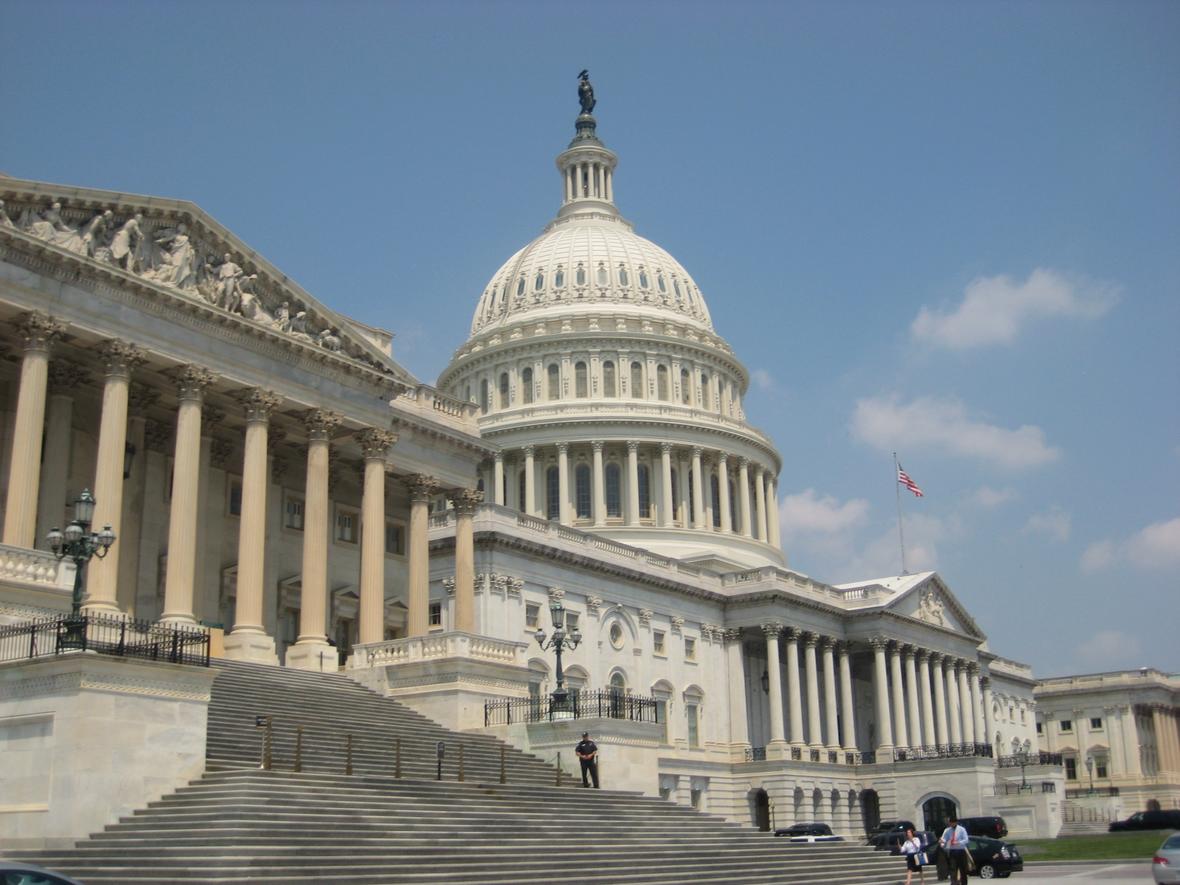 Washington Report, May-June 2021
By VFS Staff
Vertiflite, May/June 2021
AAM Support in Congress
On Feb. 25, Representatives Sharice Davids (D-Kansas) and Garret Graves (R-Louisiana) introduced H.R.1339, the Advanced Air Mobility Coordination and Leadership Act, in the US House of Representatives. This was followed on March 1 in the US Senate by S.516 with the same name, introduced by Senators Jerry Moran (R-Kansas) and Kyrsten Sinema (D-Arizona).
The two nearly identical bills require the Secretary of Transportation to establish an advanced air mobility (AAM) interagency working group "to plan and coordinate efforts related to the safety, infrastructure, physical security, cybersecurity, and Federal investment necessary for maturation of the AAM ecosystem in the United States." Specifically, the bills call on the Under Secretary of Transportation for Policy to chair the working group, with additional representatives from the US Federal Aviation Administration (FAA), the National Aeronautics and Space Administration (NASA), the departments of Transportation, Defense, Energy, Homeland Security, Commerce, and any other departments or agencies the Secretary of Transportation deems appropriate. The working group is charged with coordinating with aviation industry and labor stakeholders, including AAM vehicle and subsystems developers, operators, airports, utilities and state, local, and tribal officials or public agencies.
The bills specifically define AAM as meaning "an air transportation system that moves people and cargo between places using new aircraft designs including electric aircraft and electric vertical take-off and landing aircraft (eVTOL), which are integrated into existing airspace operations as well as operated in local, regional, intraregional, rural, and urban environments, and which may include unmanned or remotely piloted vehicles." (The Senate version includes the additional words in italics.)
FAA Charters AAM Council
FAA Administrator Steve Dickson announced in a March 4 virtual town hall meeting sponsored by the National Business Aviation Association (NBAA) that the agency was standing up an AAM Integration Executive Council. Aviation International News quoted Dickson as saying, "We are standing up an executive council to make sure we are looking at identifying all the issues and dealing with not only the certification of the machines but also how we will scale them and how we will operate them throughout the system."
According to AIN, the FAA council will "set and track AAM objectives, lead the development of an agency-wide AAM integration plan, make sure the agency's safety goals are met, examine changes needed in FAA policies, resolve applicant and project issues, and oversee communication and outreach efforts.
Dickson also noted, "We are collaborating with industry groups on 37 aircraft certification projects and seven electric engine certification projects. It's just absolutely incredible and that work continues to ramp up." The council is intended to provide insights to FAA leadership from across the agency.
Biden Administration's Budget Outline
The White House released a budget blueprint on April 9 that covered $1.5T in discretionary funding (i.e. not including mandatory spending such as Social Security, Medicare, and interest on the national debt). This top-level budget included massive (20–41%) increases to the budgets for (in declining order) the Departments of Education, Commerce and Health and Human Services, as well as the Environmental Protection Agency and National Science Foundation. Overall, the discretionary budget request was 8.5% higher than the previous year's, but non-defense spending was up 16%.
The US Defense Department received a 1.5% increase (to $715B), which is a net 0.4% reduction after adjusting for inflation. No further breakout was provided.
NASA's $24.7B budget was 6.3% higher than requested last year and includes increases for the Artemis lunar mission, space technology research and development, earth science research and STEM education. The budget also includes an $86M increase for the Aeronautics Research Mission Directorate (ARMD) to $916M — a 10.4% increase — to "enhance U.S. competitiveness in the global aviation industry that employs hundreds of thousands of Americans. This increased funding would broaden and accelerate the testing of technologies that would enable highly efficient, next-generation airliners."