Kitty Hawk Flyer Enters Service
By Kenneth I. Swartz
Kitty Hawk is taking electric vertical flight to the consumer market. If the Flyer lives up to its promises, hundreds — if not thousands — will be flying every day.
The recent explosion of electric vertical takeoff and landing (eVTOL) aircraft development has engaged a wide audience of engineers, technologists, enthusiasts and investors, as well as the general public. (News about and details on more than 100 electric VTOL designs can be found in the Vertical Flight Society's online directory: www.eVTOL.news.)
While many eVTOL aircraft are targeted at the emerging urban air mobility (UAM) market, Kitty Hawk is taking orders for its Flyer, a single-seat eVTOL that is a US Federal Aviation Regulation (FAR) Part 103 ultralight aircraft.
The production Flyer was first revealed in early June at a "pop up" flight test center located on the northwestern shore of Lake Las Vegas, a man-made oasis about 14 miles (23 km) east of McCarran International Airport in Las Vegas, Nevada.
The elegant little Flyer is the first eVTOL aircraft in the world to enter service. The ultralight aviation sector has always been open to innovation, but what sets Flyer apart from any other aircraft (either ultralight or a conventional aircraft certification) is that even a nonpilot can fly it safely after about two hours of training. That's a transformational change in the world of aviation as we've known it, and "an exciting first step to sharing the freedom of flight," said Kitty Hawk.
First Prototype
The prototype Flyer was first unveiled April 24, 2017, with three aspirational videos that teased the market and inspired viewers to fly. In the first video, the Flyer 'sky danced' over the surface of a scenic lake like a personal watercraft that suddenly broke free of gravity and started to fly. In the second video, a young woman invited to a lakeside dinner party arrived by Flyer and landed on a dock to the astonishment of her friends. And the third video documented a Flyer flight demonstration in San Francisco harbor witnessed by a small crowd.
The aircraft takes its name from the Wright Brothers' Flyer, which launched the "age of the flying machine" with four successful heavier-than-air powered flights near Kitty Hawk, North Carolina, on the eastern shore of the US, on Dec. 17, 1903.
The new flyer was announced to the world one day prior to the first Uber Elevate summit in Dallas, Texas, which increased public awareness of eVTOL aircraft and the role they are expected to play in the emerging UAM market.
Kitty Hawk's product launch didn't upstage the Uber event, but strongly signaled that other Silicon Valley tech companies and visionaries were just as serious about developing innovative eVTOL aircraft.
Kitty Hawk is funded by Larry Page, the co-founder of Google, and led by CEO Sebastian Thrun who founded the Google X lab (since renamed "X Development LLC"), the semi-secret research and development facility where self-driving cars and Internet-synched eyewear were developed for parent company Alphabet Inc.
A renowned trendsetter, Page in 2010 secretly founded eVTOL startup Zee Aero, which was absorbed in 2016 into Page's Kitty Hawk Corporation (one of the first eVTOL companies to join the Vertical Flight Society as a corporate member).
Development Team
Flyer development began in earnest in 2016 when Thrun recruited two young Canadian engineers to lead development of an innovative eVTOL aircraft (see "Back to Kitty Hawk," Vertiflite, Nov/Dec 2017).
Todd Reichert (aerodynamics) and Cameron Robertson (structures) founded Aerovelo, the University of Toronto-affiliated team that developed three record-breaking human-powered vehicles between 2008 and 2016 — the Snowbird wing-flapping ornithopter, the Eta speed bike (top speed 89.59 mph/144.17 kph) and the Atlas human powered helicopter, which won the $250,000 AHS Sikorsky Prize.
With a solid track record of achieving the "impossible," Reichert and Roberson assembled a team of like-minded engineers and technologists to develop an entry-level eVTOL aircraft.
Enabling Technology
Very little was known about the technology within Flyer until Kitty Hawk shipped two prototypes and support equipment via a tractor-trailer rig from Mountain View, California, to Wisconsin in July 2017 for the aircraft's public debut at the EAA AirVenture Oshkosh aviation extravaganza.
That's where the Vertical Flight Society met with members of the Kitty Hawk engineering team, saw the prototypes and watched chief engineer Reichert pilot Flyer "F111" over the windy surface of Lake Winnebago during an inspiring three-minute flight demonstration.
The 'proof of concept' prototype had a motorcycle/ jet ski style seat mounted above four cross tubes with eight downward facing electric motors driving fixed-pitch composite propellers. A protective net stretched out like a spider web protected the pilot from the spinning rotors, while a pair of rubberized floats allowed Flyer to operate from land and water.
"With an ultralight aircraft, the constraint is the maximum weight limit. The design challenge is how we can build an aircraft that weighs less than 250 lb [113 kg] that has sufficient range to do something incredible on battery power," said Reichert after his flight.
FAR Part 103 introduced in 1982 established limits on size (254 lb or 115 kg) and performance (a maximum speed 55 mph or 88 km/h), and also established that the people flying them needed no pilot's certificate or medical qualification.
By Oshkosh, more than 1,000 flights had been conducted by Flyer prototypes, including a new version that was a stepping stone to the production design.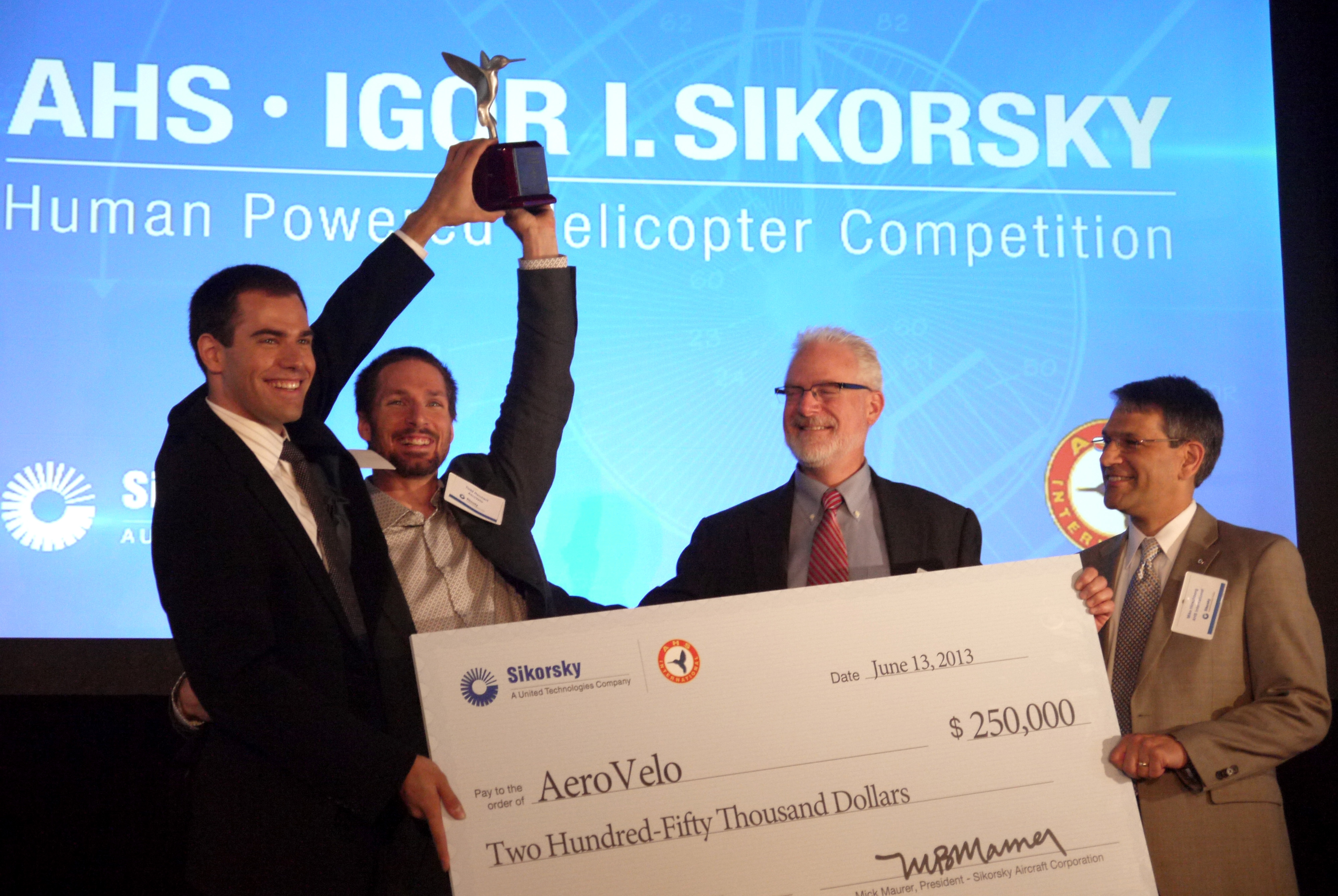 The first flight demonstration at Oshkosh was conducted in winds gusting up to 10–12 kt (19–22 km/h), "which limited the ability to go exactly where you wanted to go," said Reichert. "This aircraft flies on attitude command mode. If I had to take my hand off the stick, the aircraft will level but it will not be fighting the wind."
"As far as the physics go, this aircraft could definitely fly out of ground effect. However, we have limited the altitude and speed of this aircraft to 10–20 ft [3-6 m] above the water and 20–30 miles an hour [32–48 km/h]. These are [safety] limits that are not set by the aircraft or limited by the technology," said Reichert. (This also reflects Reichert's experience at the Aerovelo Snowbird human-powered ornithopter and Atlas human-powered helicopter, when his philosophy as a test pilot/human engine was "to never fly higher than you are willing to fall.")
Restricting flights to over water was an easy way to avoid obstacles, conserve energy and comply with a FAR 103, which says that an ultralight may only be flown over unpopulated areas. "If this aircraft is a few feet off the water, it only uses 70% of the power required at a height of 10 ft [3 m]. At the higher altitudes we were flying today [about 20 ft or 6 m], we were about 90% out of ground effect," added Reichert.
Product Strategy
Last summer, Kitty Hawk positioned Flyer as the first member in a family of eVTOL aircraft, such that "with each new release it will fly a little longer, go a little faster and be sleeker. Our long-term vision is to see the aircraft evolving so everyone can have access to personal flight and limitless mobility."
The Kitty Hawk team said that it was already working on the next Flyer with the goal of having an aircraft "you can buy" in 2018 that "will look radically different than the prototype."
It was during this incubation period that Kitty Hawk surprised many by pulling another rabbit out of a hat when it unveiled the two-seat Cora, a much larger eVTOL aircraft (which is a derivative of the Zee Aero single-seat Z-P2), on March 12, 2018 (see "Meet Cora," Vertiflite, May/June 2018).
Cora is made its first (unmanned) flights in California and in New Zealand in late 2017. It is equipped with six pairs of independent lifting propellers attached to six struts on a 36 ft (11 m) long wing. The downward thrusting propellers allow the aircraft to take off and land vertically, while a three-bladed pusher propeller provides forward thrust for wing-born flight at an initial cruise at 62 mph (100 km/h).
Flyer and Cora were being developed by two separate teams for different markets, but being the first mover in two product categories provides a competitive advantage and will help Kitty Hawk establish strong brand and customer loyalty before most of its competitors catch up.
New Business Model
Kitty Hawk returned to the spotlight on June 6, 2018, when it revealed the final version of Flyer at a big lakeside splash in the Nevada desert: "Our near term public priority is to invite small groups of all sorts of people — customers, partners, influencers, media, members of the community — to experience Flyer at our Lake Las Vegas training facility. Commercial and country partners are currently in discussions to operate fleets of Flyers to bring people to remote environments, natural landmarks, as well as offer rides in amusement parks and entertainment zones."
Kitty Hawk said its immediate goal is to sign up partners "to help bring Flyer to your community" and book pre-sale orders from Founders Flyers, an invitation-only group of early customers. Last year, you could pay a $100 Founder membership fee that entitled you to a $2,000 discount on a new aircraft and access to exclusive member events. The latest news is that Flyer will be priced in the range of an affordable electric car.
Thrun said Kitty Hawk's mission "is to get everyone to fly every day and eventually get rid of traffic." Flyer is a recreational vehicle, but he expects that in the future, electric VTOL aircraft will be used to fly into places like New York City.
The Kitty Hawk flight center is also a listening post where the company can also gain important insights from its visitors and guests, said Thrun. "We want to learn from you. How did you like Flyer and do you think this is something that will be accepted by your neighbors?"
Reichert sees Kitty Hawk "on a story arc that begins with recreation, then exploration and then transportation."
Today, it's impossible to walk into a flying school in the morning and fly solo in an aircraft by noon, but Flyer has been designed to be "super easy to fly." In the not too distant future, you will be able to visit a Kitty Hawk flight center in the US and — after a couple of hours of ground school — take off in a Flyer.
It's way too early to know the size of the market for a Flyer flight experience, but Kitty Hawk is betting that the market is huge.
Within the aviation community, one parallel can be found in the adrenaline-inducing parachute world, where it's legal to jump out the door of Cessna Caravan or Twin Otter turboprop at 12,000 ft (3.6 km) and free fall after just a couple of hours of ground school.
Of course, the fast track to free falling is the growing popularity of a tandem jump, where a student is physically attached to an experienced instructor who guides them through the entire flight experience — exit, free fall, canopy opening and landing — for an affordable price of $150–170 (or much more if you want a deluxe video package).
Let's Fly!
The first reporters to publicly experience the Flyer were Rachel Crane, with CNN Money, and Casey Neistat, an independent technology video blogger (vlogger) whose YouTube reports on Flyer were viewed 3.2 million times within three weeks.
Four airworthy Flyers were seen in published photos and video (numbers 002, 003, 005 and 006), along with a couple more used for ground instruction and decoration.
Ground school included time in a flight simulator featuring a Flyer cockpit and flat screen visual display; ground runs in a full-scale Flyer anchored to the ground; and time in a simple underwater immersion trainer — a suspended Flyer cockpit that could be manually inverted over a plastic ball pit. Instructors showed each student how to release their seat belt and quickly exit the cockpit if the aircraft was inverted on the water.
Pilots put on flotation vests with protective padding and a helmet equipped with a two-way radio to receive guidance and instructions from the ground.
The pilots entered the cockpit by approaching from the rear, with operating procedures designed to prevent anyone from approaching the aircraft if the activation key is engaged.
Elegant Design
Form follows function in the production Flyer, which is apparently the sixth or seventh iteration of the design. The pilot now sits within an elegant molded composite cockpit shaped like a bobsled chassis that protects (with a helmet) the pilot from the external rotors. Behind the pilot's seat is an integrated roll bar and pair of telemetry antennas for flight monitoring.
The floats have now moved from the underside of the aircraft to an outboard position, and they double as the storage location for the aircraft's lithium-polymer batteries. The production flyer has 10 fixed-pitch composite rotors powered by 10 flat DC electric motors, which have replaced the eight cylindrical motors used on the prototype.
Three rotors are mounted to the upper surface of each float and two more on the outboard struts on each side of the aircraft. The diameter of each rotor has been increased from about 32 inches (81 cm) on the prototype to about 47 inches (119 cm) on the production aircraft. The mast of the middle rotor mounted on each float is tilted slightly forward, which allows the central rotor disk to overlap the rotors to the front and rear.
"The flatter motor can produce more torque, which allows a slower spinning and thus quieter propeller. The larger rotors, in a configuration that gives the aircraft more span as well as improved streamlining and improved batteries, give us more flight time," explained Kitty Hawk. "When Flyer is in the air, depending on your distance, it will sound like a lawnmower (50 feet) or a loud conversation (250 ft)."
The aircraft footprint has increased, with the Flyer fuselage now 8 ft (2.4 m) in length and 13 ft (4 m) in width (neglecting the propeller arcs).
Some reports listed the empty weight as 250 lb (113 kg), just four pounds (1.8 kg) shy of the 254 lb (115 kg) maximum weight for all ultralights. Pilots up to 200 lb (91 kg) are currently accommodated, which translates into a maximum operating weight of about 450 lb (204 kg).
The cockpit contains a simple instrument panel with necessary flight information, and camera mounts on the dashboard and nose of the aircraft are available to record the flight.
On the prototype, the flight controls were two thumb sticks on the grips of the handlebars; the pilot's right hand controlled roll and pitch, while the left hand controlled altitude and yaw. On the production Flyer, the flight controls have been moved inside and are built into the hand rests on the cockpit sidewalls. The thumb controllers are similar those on a Sony PlayStation gaming controller and are intuitive to operate like those on the prototype.
The new flight control makes Flyer easier to fly. It is fully stabilized by a flight control computer that uses inputs from a variety of sensors to make flying initiative and easy. The aircraft automatically levels itself and holds altitude when there are no control inputs, and — with the addition of a GPS — Flyer can now automatically hold its position, even in a wind. In addition, "Flyer has an auto-land capability that initiates on low battery or other fault detection," added Kitty Hawk.
Initial public flights were restricted to altitudes between three and 10 feet (1–3 m) and speeds between six and 20 mph (10–32 km/h), and only one Flyer was allowed airborne at a time. Flyer has an endurance of 12 to 20 minutes at 20 mph, which roughly translates into a maximum range of about six miles (10 km).
Future
Kitty Hawk is focused on exploiting the full potential of Flyer as an ultralight aircraft.
One of the limitations of introducing electric propulsion on ultralights is that that the weight of the battery is considered part of the empty weight of the aircraft under FAR 103 despite industry efforts to have it considered as fuel. In contrast, ultralights with conventional engines can carry up to 5 US gallons (19 liters) or 30 lb (13.6 kg) of fuel without a weight penalty. Some proponents of electric aircraft have asked the FAA to recognize the weight, volume or energy equivalent of 5 gallons of fuel in a FAR 103 amendment designed for electric ultralights, which has not been approved.
Part 103 also says ultralights must have an empty weight of less than a 254 lb "excluding floats and safety devices which are intended for deployment in a potentially catastrophic situation." Floats are already integrated into the design of Flyer — since they cannot be weighed separately, Kitty Hawk had to get the entire aircraft below the 254 lb limit — but a ballistic parachute, for example, could be added without any empty weight penalty.
In the Ultralight Source Book published by the Experimental Aircraft Association (EAA), the authors noted that, "any aircraft that does not comply with each element of the Part 103 definition … is not considered an ultralight; it would be considered an aircraft. As an aircraft, it must have an N number and airworthiness certificate and be flown by a person who has an FAA pilot certificate."
Today's small helicopters falling into a slightly heavier weight category (e.g. Rotorway, Safari and Mosquito) are primarily sold as kits with 51% built by their owners so they can be registered as the Amateur-Built or Homebuilt Airplanes. These aircraft cost less to buy and fly than certified aircraft but require the equivalent of a private helicopter or fixed-wing aircraft license to fly.
By targeting the FAR 103 ultralight market, Kitty Hawk has given itself a tremendous opportunity to innovate in aircraft design and new market development. Time will tell if "making Flyer accessible ... helps more people experience the freedom and possibilities of vehicles of the future" like the Wright Brothers did … or if the effort becomes just a passing fad.
About the Author
Ken Swartz runs aerospace marketing communications agency Aeromedia Communications in Toronto, Canada. He specializes in contract public relations, freelance writing, and social media marketing for the aviation and aerospace industry. He has reported on the helicopter industry for 40 years. In 2010, he received the Helicopter Association International's "Communicator of the Year" award. He can be reached at kennethswartz@me.com.